Watch: The 'Impossible' Touchdown From Tyreek Hill of Kansas City Chiefs
Published 05/28/2020, 4:34 PM EDT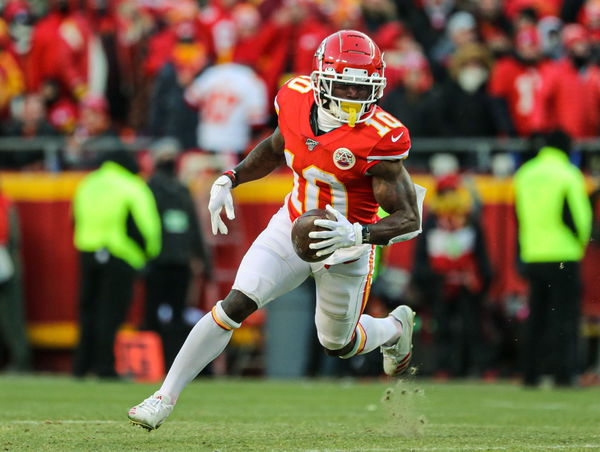 ---
---
During a 2017 game against the Dallas Cowboys, wide receiver Tyreek Hill showed incredible skill to score a touchdown. In the second quarter of the game, the Kansas City chiefs trailed 10-3 in the second quarter and things looked bleak. However, in the dying seconds of the quarter, once Hill got the ball, he took off like a bat out of hell.
ADVERTISEMENT
Article continues below this ad
The then 23-year old was one of the only saving graces as he performed a 57-yard touchdown. Hill actually displayed incredible dodging skills to escape from at least six opponents to reach the end zone.
https://www.instagram.com/p/CAvPDQrgaAt/?igshid=6acia1ufob67
ADVERTISEMENT
Article continues below this ad
Poor old Tyreek Hill saw his effort go in vain
Sadly, the Cowboys ended up thrashing Kansas City 28-17. So Hill and the rest of the Chiefs could only look on and wonder what could have been.
Hill caught a pass from Alex Smith at the Cowboys 42 and thundered toward the goal line with three blockers in front. He managed to outfox Orlando Scandrick at the 25 and cut behind two blocks from Demarcus Robinson inside the 10. Tyreek soon followed it up with a sidestep against linebacker Anthony Hitchens to finish the stunning TD.
Remarkably, it appeared Hill escaped unscathed all the way and he was almost invincible in that moment. The closest opponent was Cowboys safety, Xavier Woods with an outstretched left arm tapping him briefly. Suffice to say, Woods' fellow safety Byron Jones ripped off his helmet in frustration as Hill crossed the goal line. To make matters worse, he got sent off for unsportsmanlike conduct, referring to his reaction.
In the end, Jones got vindicated as Hill's incredible touchdown would be one of the few significant Kansas attacks. Otherwise, the Dallas Cowboys dominated the rest of the game and snuffed out any attempts from Tyreek Hill and his teammates.