WATCH: Trevon Diggs' Son Celebrate His Father's 11th Interception Of The Season
Published 12/27/2021, 8:43 AM EST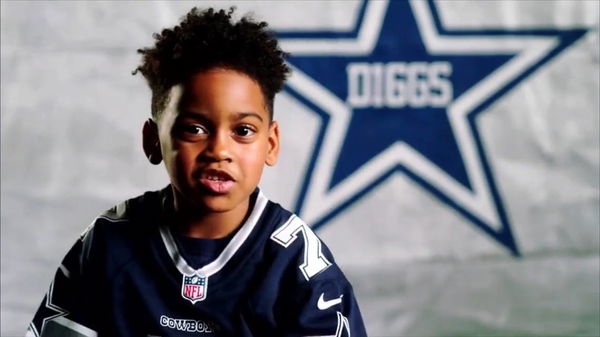 ---
---
The Dallas Cowboys cornerback Trevon Diggs wasted no time to make an impact on Sunday. From the very first play of the game, the Washington Football Team realized that they are in for a treat. America's team is on a roll, and their defense is top notch. With the best defense in the league, the Cowboys are on the top. 
ADVERTISEMENT
Article continues below this ad
Most of the credit goes to Trevon Diggs. In his second season as a Cowboy, Diggs has made franchise history. His 4-year-old son Aaiden Diggs had a special way to enjoy his daddy's success.  
Trevon Diggs makes Dallas Cowboys history
ADVERTISEMENT
Article continues below this ad
Around 11 and a half minutes, the Washington Football Team was on the offense. The quarterback Taylor Heinicke decided to go deep with his first pass. He was hoping to find his wide receiver, Terry McLaurin. But Trevon Diggs did not allow that. Diggs, with his lightning-fast reflexes, intercepted the pass. It was the cornerback's 11th interception of the season. Trevon has now tied the Cowboys' single-season interception record. 
This play was only the beginning of a total knockout match. The Dallas Cowboys mopped the floor with their opponents. They did not let WFT get any momentum. Dallas instantly shut every play Washington made down. The match became one of the most scoring games of the season. The result was 56-14. It was a complete annihilation of the Washington Football Team. With its impeccable defense, the Cowboys still reign supreme. Dallas added one more win to their impressive three-game streak. The NFC East is in their pockets without a doubt. 
Aaiden Diggs celebrates his father's 11 interception
ADVERTISEMENT
Article continues below this ad
For a parent who is an athlete, the support of their children means everything to them. And throughout the history of the NFL, we have seen many children cheer up their fathers on the field. Especially after winning the Super Bowl, we can see the families of all the players. 
ADVERTISEMENT
Article continues below this ad
Trevon Diggs brought his son Aaiden to the game on Sunday. Just at the age of 4, little Aaiden understands everything about football. He knew that his father only needed one more interception to tie the record. That is why when Trevon Diggs made the interception in the first quarter, Aaiden broke out some wild moves. The little man can dance pretty well, but was only the beginning. With Aaiden's support, his father and the Cowboys won the game.