WATCH: When Green Bay Packers Made Matt Hasselbeck Eat his Words
Published 05/31/2020, 8:30 AM EDT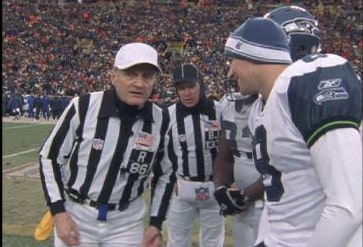 ---
---
Matt Hasselbeck was somewhat of a late bloomer. He was the 187th overall pick in the 1998 NFL draft. The Boston Eagles prospect didn't manage to unseat Brett Favre in his 3 seasons with the Green Bay Packers. He served as backup to the Super Bowl XXXI winner and passed for a measly 145 yards in 32 games for the Packers.
ADVERTISEMENT
Article continues below this ad
A trade deal saw him move to Seattle and after 2 seasons he established himself as the first choice. In 2003 he continued to impress, made his first Pro-Bowl, and managed to secure his side a wild card berth against none other than the Green Bay Packers. This game though will always be remembered for a boastful display of overconfidence by Matt Hasselbeck. 
Matt Hasselbeck eats his words in overtime against Green Bay Packers
ADVERTISEMENT
Article continues below this ad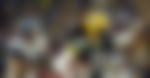 The game headed into overtime with both teams locked on 27 points apiece. The Wisconsin side was unlucky to miss out on a regulation-time victory. 
Here at the toss, Hasselbeck said, "I'd like to call heads." As the Seahawks won the toss, John Randle and Alex Bannister along with the quarterback celebrated as the latter declared his side's intentions too.
He said, "we want the ball and we're going to score." The official too looked bemused by Hasselbeck's bold declaration. The pumped-up quarterback sprinted off to join his team. 
As overtime progressed both sides remained locked on 27 points apiece. However, on 3rd and 11 with 10:42 on the clock, Hasselbeck attempted to find his left wide receiver. But a poor throw got intercepted by Packers cornerback Al Harris. He proceeded down the field desperately pursued by the Seahawks offense and registered a game-clinching 48-yard pick-6. 
The raucous fans at Lambeau Field were ecstatic as the decibel levels soared following the play which put 'The Green and Gold' into the driver's seat. They never looked back and shut out the Seahawks in overtime to advance to the NFC Playoffs. 
ADVERTISEMENT
Article continues below this ad
Fans often wonder if Hasselbeck would change that moment where he humiliated himself before the United States. As per an NFL news piece he says, "I know it sounds crazy, but I wouldn't change a thing. I really wouldn't."
ADVERTISEMENT
Article continues below this ad
Hasselbeck seems to have accepted that he made the declaration and it backfired. But him not wanting to change a thing shows us that he wasn't just playing around on the 4th of January, 2004.
WATCH: The Pick 6 Machine of Green Bay Packers Charles Woodson