WATCH: Will Smith Trains With Miami Dolphins QB Tua Tagovaiola on an NFL Level Workout Session
Published 12/30/2021, 2:41 AM EST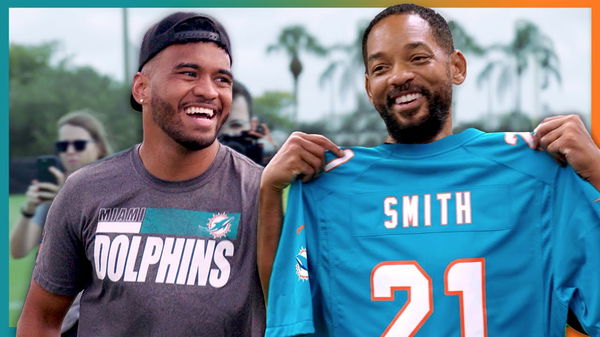 ---
---
Hollywood actor Will Smith met with Miami QB Tua Tagovaiola as part of participating in an NFL-level workout session. The Dolphins Training Centre was the venue for this Will Smith vlog. It provided an All-Access look into the preparation of an NFL QB en route to their NFL match days.
ADVERTISEMENT
Article continues below this ad
Smith and Tua's meeting provides the millions of fans to witness a collision of two different worlds. It was a 'Hollywood meets NFL moment' with culture gaining center-stage attention.
ADVERTISEMENT
Article continues below this ad
Will Smith and cultural assimilation
Tua introduces the viewers to his Polynesian descent and his cultural practices. The drinking of Kava as a pre-workout routine is a clear example of the pride he holds towards his roots.
Will Smith also finds himself drinking the Kava despite being hesitant at the start. The whole methodic exercises clearly display the discipline that an NFL athlete needs to maintain.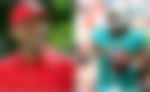 The exercises that both Will and Tua attempt do hold a level of difficulty. But it is when they step out onto the field that the difference in their abilities becomes transparent.
NFL Level athleticism and precision of Tua Tagovaiola
ADVERTISEMENT
Article continues below this ad
Will Smith, in fairness, does attempt to decode how Tua executes his football principles. Tua does talk about the natural progression of his technique and how the comfort of each NFL QB varies in the league. The outdoor footage also provides its viewers a bird's eye view of the vastness of the South Florida Training Complex.
The young NFL fans at home only get to watch the field through the TV, but in reality, the field really is enormous. Later after some receiver run trials, both Tua and Will attempt to hit the Dolphins Logo with the football. It was basically an accuracy and arm strength test in which Will marginally failed. While Tua found it easy to hit the target with aplomb and flawless ease.
 

View this post on Instagram

 
ADVERTISEMENT
Article continues below this ad
The process of preparation for an NFL athlete is really something that is instilled quite early on in their young career. The work that the modern-day QBs put into their craft really shines on the field and it is specifically noted down during the first half of the video. The prospective NFL players really are given a brief yet clear idea of the levels that are expected for a top NFL prospect.