WATCH: Zach Wilson Channels Patrick Mahomes With Unique Pass
Published 03/30/2021, 1:57 PM EDT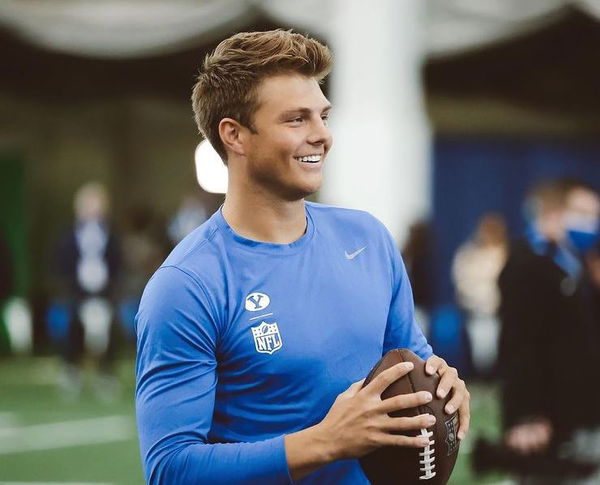 ---
---
Zach Wilson is one of the foremost quarterback prospects this year. The BYU quarterback has been making the rounds in recent weeks, as he rises up the mock drafts.
ADVERTISEMENT
Article continues below this ad
Analysts and experts projected Wilson to be a Top-3 quarterback pick in the draft and currently expect him to go #2 overall to the New York Jets. But from this one play, you'd think he was destined for the Kansas City Chiefs.
The NFL Twitter account posted an interesting side-by-side clip today. One side of the clip shows Patrick Mahomes of the Kansas City Chiefs throwing a jaw-dropping, but subtle, underhanded flip pass in an old game of his.
ADVERTISEMENT
Article continues below this ad
The second clip saw BYU stand-out Zach Wilson throw an almost identical pass to his teammate. Both passes ended with the receiver getting the ball and running it into the end-zone.
Zach Wilson has drawn several pro-comparisons during early scouting. The most notable of those have been to Patrick Mahomes and Aaron Rodgers. Few even believe that he is a hybrid between the two.
He has the incredible passing range of Mahomes, but the excellent decision-making that has made Rodgers an undisputed star in the NFL.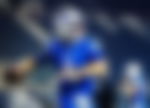 Zach Wilson- The Next Patrick Mahomes?
Wilson will be happy with the kind of ceiling comparisons. Patrick Mahomes has been one of the fastest rising stars in the history of the NFL.
In just 4 years, he has been a league MVP and reached 2 Super Bowls, including a Super Bowl win in 2020. Mahomes sets the standard for young quarterbacks that have entered the league in recent years. Wilson is being hyped up before entering the NFL. His performances during last year's collegiate season have made him a hot commodity.
ADVERTISEMENT
Article continues below this ad
While Trevor Lawrence is the undisputed #1 pick, Wilson has been highly reputed for his play. Despite not having the strongest tools around him in BYU, Wilson showed what he is capable of during his time.
Will Zach Wilson go to the New York Jets? Top analysts have predicted and suggested that the Jets will use their coveted #2 overall pick to draft Wilson.
Sam Darnold has not worked out for the franchise, and the arrival of Wilson could spell the end for his time in New York.
ADVERTISEMENT
Article continues below this ad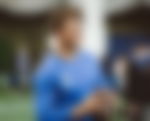 Trending Stories