"We're Just Here to be Heard" – Former San Francisco 49ers Nose Tackle Joins Protests
Published 06/08/2020, 3:40 PM EDT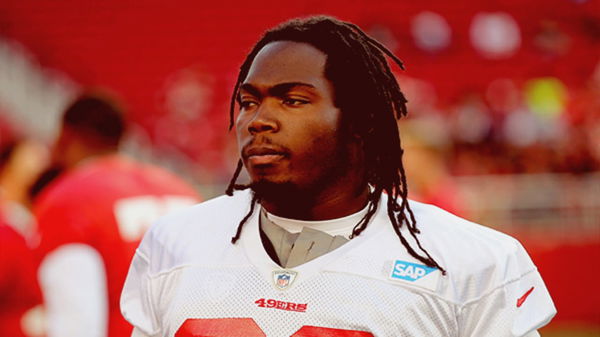 ---
---
Ian Williams's NFL career might have ended due to an ankle injury. But that injury did not stop him from joining a George Floyd march on the streets of San Jose yesterday. The former nose tackle for the San Francisco 49ers realized it was time to a part of the change on May 29, when he saw on the news that clash between the protestors and the authorities was getting more serious.
ADVERTISEMENT
Article continues below this ad
ADVERTISEMENT
Article continues below this ad
"Let me just throw on some clothes and go down there as fast as I can and support the cause and try to keep it as peaceful as I can," the former 49ers defensive lineman told The Bee. "Maybe my word, maybe me being out there, might help might save a cop or somebody else from getting injured."
Former San Francisco 49ers Defensive Lineman Tries to Handle a Heated Situation
The 30-year-old spent the better part of last week protesting against police brutality and racism. He said that the situation was already bad when he got there, and it was only becoming worse. "They were shooting tear gas and smoke bombs at people. Eventually, I got to an area where it was kind of calm. I went up and down the police line with (Colin Kaepernick's) jersey."
ADVERTISEMENT
Article continues below this ad
Williams further mentioned that persons who came out of nowhere threw rocks and water at the police officers present. In retaliation, the police shielded themselves and shot rubber bullets at the crowd. Flash bombs were used as well.
"A couple of flash bombs, they exploded probably a few feet away from me. My ears started ringing. That's when the survival instinct kicked in. 'I got to get the hell up outta here.'"
Ian further saw a young vandal use an Uber scooter to break a window. He said to the vandal, "we're not here to vandalize. We're just here to be heard and let them know that we can be civil and still get our point across."
ADVERTISEMENT
Article continues below this ad
The rioters have been deeply criticized by many across the country. "They want civil unrest and they want to stir up trouble and they want to get out their emotions that may be a cop roughed them up," Williams said. "(But) don't come over here when we're trying to be productive and you be counterproductive."
Williams was signed by the San Francisco 49ers as an undrafted free agent in 2011.