"We didn't have fans anyway" – Denver Broncos' Melvin Gordon Responds to the Possibility of Fanless Stadiums
Published 05/29/2020, 4:41 PM EDT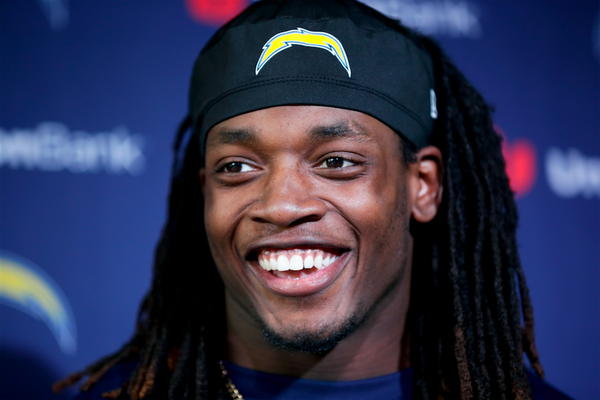 ---
---
With the NFL announcing that the 2020 season shall get under by September, questions regarding the safety of players, staff, and fans have been lingering in the minds of many. The League has been suspended since March due to the ongoing COVID-19 pandemic and may be compelled to hold fixtures with fewer spectators or none at all. Melvin Gordon, however, seems prepared for this.
ADVERTISEMENT
Article continues below this ad
Joking About Already Having Played in Stadiums with No Fans
ADVERTISEMENT
Article continues below this ad
Cornerback Marcus Cromartie asked Denver Broncos' Melvin Gordon how he would feel playing without any fans in the stadium. Gordon decided to light-heartedly poked fun at Los Angeles Chargers in response to the question. He apparently grew used to playing in stadiums with empty stands while at the Los Angeles team. "Bro, we didn't have fans anyway", the cornerback said laughingly.
The two-time Pro Bowler was drafted by the San Diego Chargers in 2015. The Chargers decided to move to Los Angeles in 2017 and consequently, struggled to bring fans out to the stands. "Much loyalty and love but we ain't have many [fans], so I'm not missing anything", the Doak Walker Award recipient said. Gordon signed with the Denver Broncos this offseason but hasn't been able to play for the team yet.
Will Fans Really be Unable to Attend Football Games?
ADVERTISEMENT
Article continues below this ad
With health and safety at top priority, fans may actually not be permitted to spectate games at stadiums. Typically, a football stadium has the capacity to seat 65,000 or so spectators. However, now teams might not be able to host more than 15,000 in each game.
ADVERTISEMENT
Article continues below this ad
Recently, the Miami Dolphins announced measures it plans to take to be able to host fans at its Hard Rock Stadium in fall. These seem to be in compliance with the norms for social distancing issued by the Center for Disease Control.
With numerous health risks involved, being able to experience great NFL moments live again currently seems like a distant possibility.