"We Lost a Lot": Tom Brady on Losing Most of the Offense but Scoring Big Against the Panthers
Published 12/27/2021, 1:36 PM EST
---
---
Tom Brady has led the Tampa Bay Buccaneers to their first NFC South clinch in 14 years. But all this did not come easily. A week ago, the Bucs were hit hard with adversity when the Saints shut out the defending champions for a 0-9 loss.
ADVERTISEMENT
Article continues below this ad
It was not just the defeat that bothered them the most. The Bucs lost several key players against the New Orleans Saints. It sidelined Players like Mike Evans (injured hamstring), Chris Godwin (injured ACL tear), and Leonard Fournette (injured hamstring). The sideline of these players put the Bucs in a tricky situation since they had lost a humongous 60 percent of their scoring offense.
ADVERTISEMENT
Article continues below this ad
To deal with this situation, the franchise signed in veteran running back Le'Veon Bell as a backup to Ronald Jones II and Key'Shawn Vaughn. It was right on time that the franchise was able to activate Antonio Brown, who had just arrived from a three-game suspension. Although the squad was not their best one, they did seem to play like they were.
Tom Brady on winning with a crippled squad
"Yeah, we lost a lot and I don't think you just make up for it overnight," Tom Brady said in the conference when asked about their recovery from an adverse state. "We're gonna have to learn each other, different guys were gonna have to do some different things with the guys that are in there."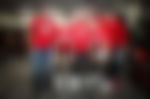 He added, "And the guys are gonna have to keep getting better and better and make improvements and hopefully, we can get some guys back this week. And you know get even stronger at these positions."
ADVERTISEMENT
Article continues below this ad
Today is a prime opportunity for Tom Brady to prove he's worthy of the MVP. No Evans, no Godwin, no Fournette. Panthers have the NFL's 2nd-ranked pass defense.

— Luke Easterling (@LukeEasterling) December 26, 2021
The Buccaneers, after asserting dominance over the NFC South will now be eyeing to compete for the No. 1 seed in the NFC. But that will only happen if the Packers lose their next two matchups while the Bucs win them. Speaking of which, the defending champions now have two more games left in the regular season. They will be going up against the Jets and the Panthers before stepping into the playoffs.
ADVERTISEMENT
Article continues below this ad
The 44-year-old veteran quarterback has clinched the division table many times with the New England Patriots. But doing that with the Bucs was something special since the franchise claimed dominance over the NFC South for the first time since 2007 despite playing with a crippled squad.
Watch Story: From Joe Burrow to Josh Allen; Six NFL QBs You Can Start a Franchise With