"We Want This Man off Our Team": NFL World and Even Denver Broncos Fans Try Their Best to Ruin Russell Wilson's Birthday
Published 11/30/2022, 7:00 PM EST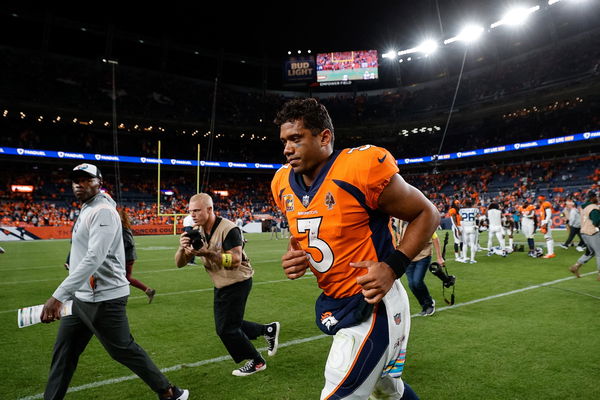 Russell Wilson turned 34 today. However, this week hasn't been birthday appropriate for the Super Bowl champion quarterback. After his Denver Broncos lost yet again on Sunday night football, Wilson's birthday message from the Broncos' official Twitter handle had some fans reacting very negatively.
The Denver Broncos dreamt of potentially fighting for the Super Bowl when Russell Wilson arrived on a $245 million contract. However, the story took a twisted turn for Denver. They currently sit at the bottom of their division. After losing to the Carolina Panthers on Sunday, the Broncos dropped to 3-8 for this regular season. Russell Wilson has not been at his Seattle-winning ways since the start of the season.
ADVERTISEMENT
Article continues below this ad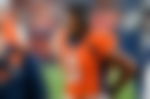 DangerRuss was one of the leading quarterbacks in the NFL before this horrible run in the 2022 season. Wilson won a Super Bowl ring with the Seattle Seahawks in his second year in the NFL. Then he took his former franchise to a third Super Bowl the following year. However, Denver is not suiting Russ.
Russell Wilson didn't get the Broncos Nations' love on his birthday
After Week 12, Russell Wilson has only 8 touchdowns for the Denver Broncos. And his 5 interceptions put him at a mediocre 82.3 passer rating for the season. Against Carolina, Wilson threw for only 142 yards over 35 attempted passes and completed 1 touchdown pass for Broncos WR Brandon Johnson. The 23-10 loss to a struggling Carolina Panthers incensed fans. And Russell Wilson's birthday was the last thing on their minds.
Never been to Broncos country, but it looks like it'll take a looking time to get there. 🤣

— Matt Newton (@MattNewtonNFL) November 29, 2022
i speak for every broncos fan when i say we want this man off our team

— keith 🦧 (@nichuskinSZN) November 29, 2022
Las Vegas Raiders fans had some fun on the tweet replies after beating the Broncos in Week 11.
Many think the Denver Broncos offense, led by Russell Wilson and head coach Nathaniel Hackett, is letting down the supremely efficient Denver defense. The Denver offense ranks last in the league with 14.3 PPG while their defense ranks third this season in points allowed. However, instead of blaming him for the loss, fans think the offensive line needs to provide more protection to Wilson.
Wish him and the team the best cause that's what a fair sportsman does 🤝 don't know what's wrong with him this year, can't believe he forgot how to play but maybe it's just a bad season and the next one will be better. Good luck guys

— Go Chiefs!!! (@k_ulrike) November 29, 2022
Happy birthday Russ! Despite all these fans giving up on you, I'm not. Everybody goes through rough patches and a lot of the problems have nothing to do with you. You need time to throw and shouldn't be on the run for your life. The offensive line gets paid to block and protect u

— David Lewis (@Bossofbosses97) November 29, 2022
Russell I'm rooting for you I know you're a top-notch quarterback. This system doesn't work for you. I'm sorry you may like this coach but his system does not working.. now Sean Payton has head coach might be a good deal for you. He was for Drew Brees and you have similar play.

— Dan George (@DanGeor59125118) November 29, 2022
ADVERTISEMENT
Article continues below this ad
I know he isn't playing good, but with that huge contract he's probably not going anywhere, I assume they're going to fire the HC at some point soon. Wilson is definitely capable of playing good in the right type of offense.

— garrett edwards (@garrettedwards_) November 29, 2022
ADVERTISEMENT
Article continues below this ad
Russell Wilson has nine Pro Bowl selections in his NFL career. And his fans hope for him to bounce back for the Broncos Nation. However, the road ahead is filled with difficulties for Russ and his men. They have two matchups with Patrick Mahomes' Kansas City Chiefs left this season. But up next, Russell must first deal with Lamar Jackson and the Baltimore Ravens.
WATCH THIS STORY: Russell Wilson's Broncos are in self-destruct mode after defensive player seemingly shouts at 250 million QB