"We'll find out who he is" – Cincinnati Bengals Offensive Coordinator Gives a Fitting Response of Joe Burrow's Comparison with Patrick Mahomes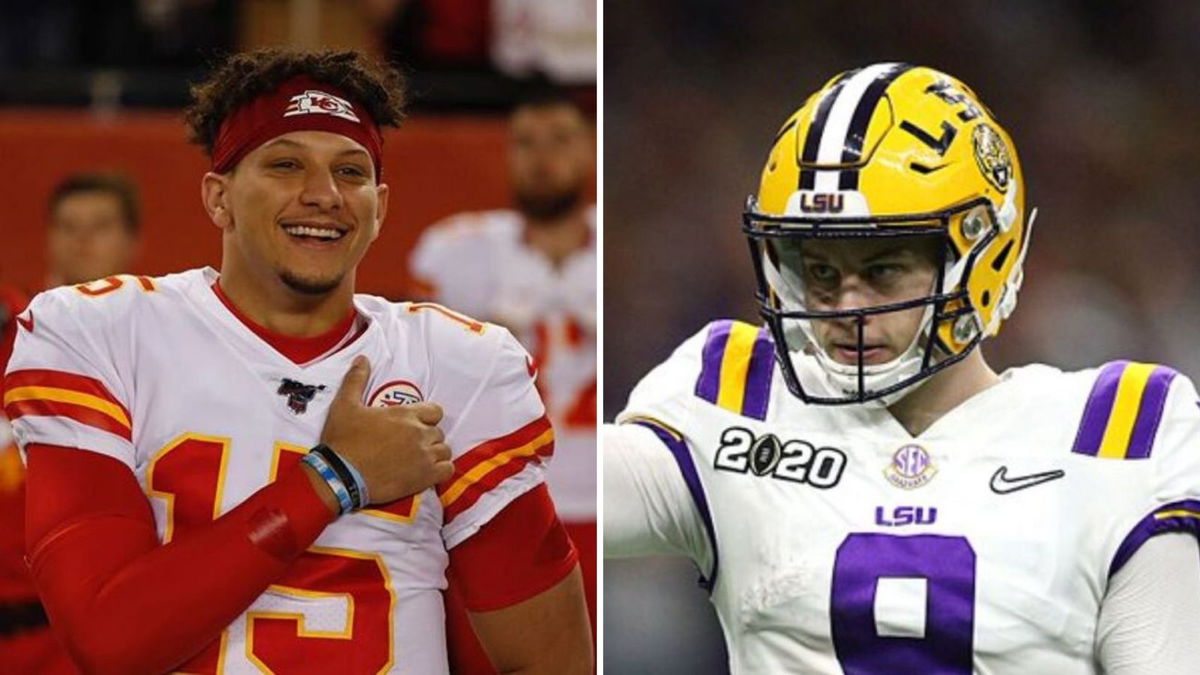 Joe Burrow was magnificent last year as he led LSU to the National Championship title. He ended the 2019 season with 60 passing touchdowns.  In doing so, Burrow shattered the single-season FBS record which was previously held by Colt Brennan in 2006 (58).
He was the first pick at the NFL 2020 Draft which was held virtually due to the COVID-19 crisis. Cincinnati Bengals utilized their first-pick to choose Burrow ahead of the likes of Tua Tagovailoa, Justin Herbert and Jalen Hurts. Burrow became the third Heisman Trophy winner to become the first NFL draft pick. The previous two were Baker Mayfield and Kyler Murray.
Brian Callahan reluctant to equate Burrow with Patrick Mahomes
Enough talk. Time to get to work. https://t.co/EAK97ZePE8

— Joey Burrow (@JoeyB) April 24, 2020
While speaking to the Bengals' official website, offensive coordinator – Brian Callahan – was questioned about star quarterback – Joe Burrow. Callahan was asked about Burrow's resemblance to Super Bowl QB's Patrick Mahomes and Jimmy Garoppolo. But he refused to make comparisons with either.
"We'll find out who he is. At the end of the day it sounds kind of Coachish, but if we can get the best version of him, that's all that matters. I want guys to look at us and go, 'Man, I want Joe Burrow, that's what I want.' That's why I don't like to compare them."
"All these players are so different. It's our job to find things he does well enough, showcase that and it's the job of the guys around to help him by doing what they do best. I want Joe Burrow to be himself. Do what he does best and be himself authentically as a person and I think you'll get all that from him," Callahan said.
Expectations are high from Joe Burrow ahead of NFL debut
Hey @LSUfootball, you up?

3rd & 17: @JoeyB ➡️ ➡️ @JJettas2 👋 pic.twitter.com/kppVVvcQeR

— SEC Network (@SECNetwork) July 1, 2020
Without a doubt, the Bengals offense will have to be re-shaped to suit Burrow's playing style. While at LSU, Burrow thrived in the pocket. That is something Callahan will be looking to build upon in Burrow's rookie season in the NFL.
"He was under center in 2018 at LSU quite a bit, so it's not a guess for us to see what he might look like. If you ask 32 NFL quarterbacks, I bet all 32 of them would tell you they're more comfortable in the gun. It's just a natural thing. But there's a time and place you have to be under center in the NFL," Callahan added.