Teddy Bridgewater Injury Update: New Information Reveals Injury Severity
Published 12/20/2021, 4:45 PM EST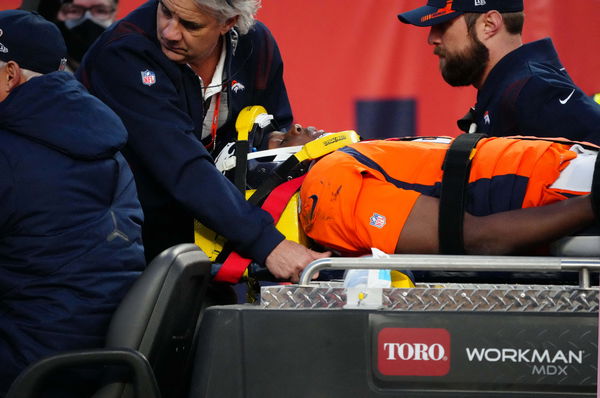 ---
---
Teddy Bridgewater, the Denver Broncos star quarterback, was carried off the field during the Cincinnati Bengals fixture in Week 15 matchup. Medics took Bridgewater to a local hospital for an immediate checkup after sustaining a head injury. He remained in the hospital for the rest of the night for observation.
ADVERTISEMENT
Article continues below this ad
During the post-game interview, Broncos head coach Vic Fangio stated Bridgewater was doing well but will be under observation for the night."Everything has checked out good up to this point," Fangio said. "They're just going to keep him overnight for observations, but they think he'll should be and will be fine — eventually."
ADVERTISEMENT
Article continues below this ad
Teddy Bridgewater to remain in hospital for further evaluation
Fangio also stated he believed Bridgewater to have picked up a concussion. However, that was just an assumption and had no official statement. The quarterback sustained the injury while driving for a first down in the third quarter. He landed face down and showed no movement initially.
QB Teddy Bridgewater will stay at the hospital overnight for further evaluation, but so far everything has checked out well, per Coach Fangio.

— Denver Broncos (@Broncos) December 20, 2021
This prompted the medical staff to rush towards him, only to discover that Bridgwater had picked up a head injury and that his role for the night came to a sudden end. Following this incident, medics rushed the starting quarterback to the hospital while he was being replaced by the backup QB Drew Lock.
ADVERTISEMENT
Article continues below this ad
Drew Lock stepping in for Bridgewater
Although Lock did a pretty good job for a backup, but failed to lead his team to a victory over the Bengals while trailing with 9-3 when he took over. He went 6-of-12, passing for 88 yards with one touchdown and one lost fumble for the rest of the game.
ADVERTISEMENT
Article continues below this ad
Lock has stepped in for an injured Bridgewater frequently this season. Throughout the season he has completed 22-of-40 passes for 227 yards with one touchdown, two interceptions and two fumbles. While on the contrary, starter Bridgewater has 20 touchdowns, 18 passing and two rushing, with seven interceptions and one fumble throughout his 14 games this season.