'Just a Sh*tty Throw': Patrick Mahomes Weighs in On his Performance Against Los Angeles Chargers
Published 12/18/2021, 1:45 AM EST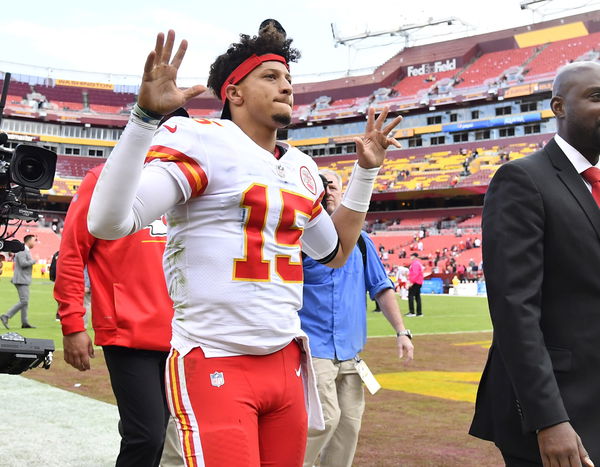 ---
---
Patrick Mahomes did a phenomenal job in leading the Kansas City Chiefs to an appealing victory. The Week 15 matchup against the Chargers resulted in their seventh consecutive win. This is very impressive considering their pretty adverse state in mid-October.
The Chiefs' 34-28 overtime victory over the Chargers on Thursday had a lot of positives. However, Patrick Mahomes and the Chiefs did not have everything go their way, particularly on one play in the red zone. Mahomes discussed the play in question and gave a brutally honest reaction to Mecole Hardman's missed TD throw.
The play took place in the third quarter of the game, with Patrick Mahomes and the Chiefs seeking to score on a 4th and 1 situation. Mahomes had Mecole Hardman wide open in the end zone, but he couldn't get a firm handle on the ball. Eventually throwing it into the dirt as he fell short of reaching the wideout.
Patrick Mahomes holds himself accountable for the throw
Mahomes seemed to be unhappy in himself for the error, which is an exceptional quality to have in a quarterback. Especially one who just finished the game flawlessly to lead the Chiefs to an overtime victory. "It was just a really sh*tty throw," Mahomes said of the fourth-down error.
The Kansas City quarterback threw three touchdown passes, but in his mind, he was still recalling the mistake that he had made at such a crucial moment. Had the Chiefs lost to the Chargers, that incomplete pass could have become the pivotal moment in the game that would have backfired upon the Chiefs star.
However, Mahomes and the Chiefs will benefit from that approach and attention to detail in the future. Kansas City will be a difficult out for the rest of the NFL, with the Chiefs defense blazing on all cylinders and Patrick Mahomes making sure the offense stays accountable.
After defeating the Chargers on the road, the Chiefs head back home to host the Steelers in the Arrowhead Stadium. Their 10-4 record so far has made them the leaders of the AFC West, although they do have three games left to maintain that blazing form. The Chiefs look sharp at this point of the season, but it is to be seen if they carry out the same attitude throughout the season.