"We've Had Some Battles" – Aaron Rodgers Delves Into Ndamukong Suh Rivalry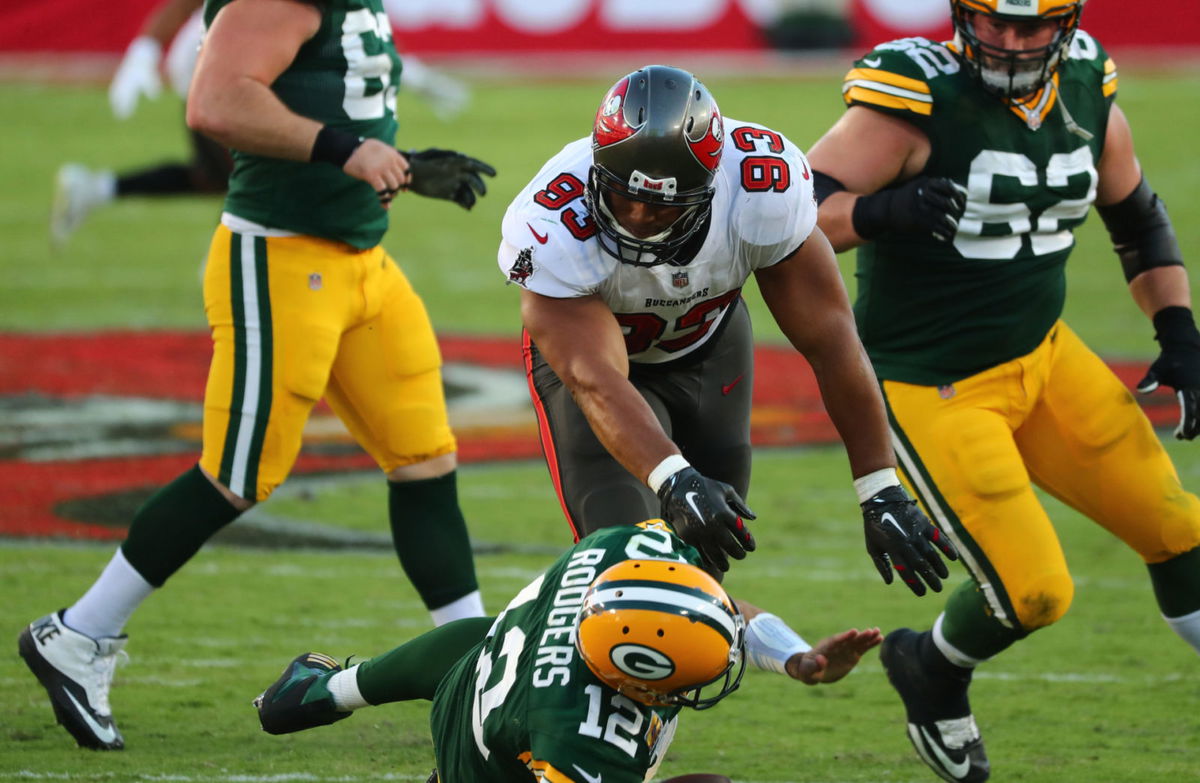 The Aaron Rodgers-led Green Bay Packers suffered their first defeat of the season at the hands of the Tampa Bay Buccaneers in Week 6. The NFC North powerhouse was humbled by a 38-10 loss to Bruce Arians' boys. Head Coach Matt LaFleur was not too pleased with his team's display. That was evident in his post-game presser.
However, another talking point from the game were the on-field clashes between Aaron Rodgers and Ndamukong Suh. Tempers were flaring once again when the pair squared off on Sunday.
ALSO READ- Popular Sportscaster Claims 'Aaron Rodgers Had the Worst Game of his Career'
Suh shut things all the way down 😡 @NdamukongSuh @Buccaneers

📺 #GBvsTB on FOX pic.twitter.com/ZXswcdzkhh

— The Checkdown (@thecheckdown) October 18, 2020
Green Bay Packers quarterback opens up on Ndamukong Suh battles
"It hasn't been cordial over the years between me & Suh. We've had some battles"@AaronRodgers12 chats about some interesting moments & conversations with Ndamukong Suh #PatMcAfeeShowLIVE pic.twitter.com/EU9lhg78UH

— Pat McAfee (@PatMcAfeeShow) October 20, 2020
Aaron Rodgers made his weekly appearance on The Pat McAfee Show on Tuesday. The 2-time NFL MVP was asked about the animosity he shared with veteran NFL defensive end Ndamukong Suh.
The tension between both these players was quite evident on Sunday. Rodgers was fumbled on 5 instances while playing the Buccaneers, Suh directly responsible for 2.
But despite their differences, Rodgers maintains nothing but respect for his defensive counterpart. "He's been, in my time, you know one of the most dominant 3-techniques in the game for so many years.
"He's also played his own way, you know, it's been his style that he's played since he got into the league and that leads to some interesting conversations over the years," Rodgers said on The Pat McAfee Show.
There are three games being playing in Tampa Bay.

Packers vs Buccaneers
Aaron Rodgers vs Tampa's pass D
Rodgers vs Suh pic.twitter.com/4I42XhrNtJ

— George Balekji (@GeorgeBalekji) October 18, 2020
The duo certainly have their own fair share of history as they battled it out in the NFC North when Suh played for the Detroit Lions. Have a look at this throwback video from December 2014.
Suh was suspended for stepping on Rodgers' leg in Week 17. He was banned from the Lions' first playoff game the following week and was slapped with a $70,000 sanction.
Aaron Rodgers insists he doesn't want to 'fight' Ndamukong Suh
"I was under the impression we were going to have a conversation after the game. It was one of those I'm old, you're old, let's talk some things out"@AaronRodgers12 on his battles with Suh #PatMcAfeeShowLIVE pic.twitter.com/VNpIL2pHga

— Pat McAfee (@PatMcAfeeShow) October 20, 2020
The 36-year-old further asserted that he hoped to sort things out with Suh after the game. However, the Buccaneers player failed to meet Rodgers later on. But rest assured, the veteran NFL quarterback has no intention of going fist-to-fist with Suh any time soon.
"Look, I'm not going to fight Ndamukong Suh…I'm fully aware of that. But after all these years playing together….we've never had that conversation on the field.
"I think he's an excellent guy. On the field, I can't say I'm a huge fan because we've battled so many years, there have been some interesting conversations," Rodgers added.
It was a pleasant sight to see the usually calm Aaron Rodgers go all gung-ho on Suh. We only reckon this is going to push the Packers quarterback to up his aggression moving forward. Did the Buccaneers wake up a 'sleeping giant'?
ALSO READ- "Can't Allow One Loss to Become Two"- Green Bay Packers Coach Lays Down the Law