'What a Blame-Deflecting Diva' – Skip Bayless Tweets Out His Ire Against Aaron Rodgers During NBA Finals
Published 07/15/2021, 7:51 AM EDT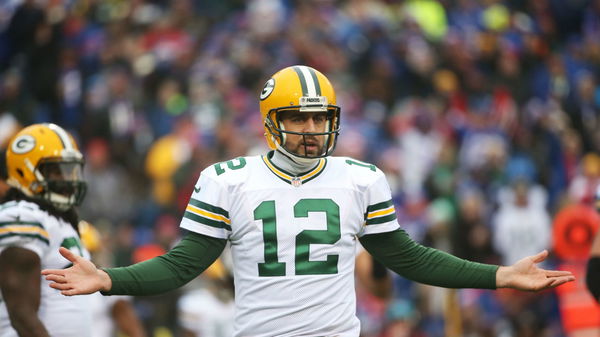 ---
---
The future of Aaron Rodgers in the NFL has been the topic of hot debate among fans for months now. Ever since word first went out of him wishing to leave the Green Bay Packers, people have been speculating as to what lies next for the star QB.
ADVERTISEMENT
Article continues below this ad
While Rodgers hasn't confirmed this report his action suggests that the concerns of him leaving are genuine. Skipping OTAs and minicamp, many believe that the reason behind his discontent is his fragile relationship with the franchise's front office. 
The Packers drafted QB Jordan Love in 2020 with their first-round pick. This decision stunned many as the Packers were expected to draft a wide receiver to help Aaron Rodgers' output on offense.  
ADVERTISEMENT
Article continues below this ad
With Aaron Rodgers putting on a show last season to land himself the 2020 NFL MVP award, the Packers are now desperate to hold on to their QB. 
But with Aaron Rodgers preferring to stay away from the spotlight, NFL analyst Skip Bayless called foul play. 
Aaron Rodgers berated in a series of tweets 
A little known fact about Aaron Rodgers is that he is a minority owner of the NBA franchise Milwaukee Bucks. Unlike the Packers, the Bucks have advanced to the finals of their league are now tied 2-2 with the Phoenix Suns for the 2021 NBA title. 
READ MORE – VIDEO: Broncos Legend Peyton Manning Suffers an Awkward Gaffe While Throwing First Pitch at 2021 MLB All Star Game
Seeing Rodgers along the sidelines became a regular sight for Bucks fans over the years. But this season, things have been different. Aaron Rodgers is yet to appear at the Fiserv Forum for any of the Bucks' playoff games this season.
And this is something that didn't sit well with Skip Bayless one bit.
Why isn't Aaron Rodgers sitting courtside tonight at Game 4 in Milwaukee??? He owns a piece of the Bucks! Oh, that's right, he's trying to scare the Packers into giving him a big new guaranteed deal for the next 3 years.

— Skip Bayless (@RealSkipBayless) July 15, 2021
Skip Bayless is an avid Tom Brady fan. There's little doubt about that. And perhaps seeing the opportunity to take a dig at Brady's competitor was too good of an opportunity for him to give up.  
ADVERTISEMENT
Article continues below this ad
And Bayless' rant didn't stop there though. In his online tirade, Skip Bayless called Aaron Rodgers a "diva" for deflecting the blame onto the Packers management. 
Speaking of "poor" Aaron Rodgers, an ESPN survey ranks Davante Adams far and away the NFL's best receiver. And Packers management hasn't given Rodgers enough help??? What a blame-deflecting diva.

— Skip Bayless (@RealSkipBayless) July 15, 2021
ADVERTISEMENT
Article continues below this ad
To be fair, not all of the blame can be deflected on to the Packers front office. But as the saying goes, it takes two to tango.