"What a Clown..": Skip Bayless' Dak Prescott Diss Comments Draw Mixed Reactions From the NFL World
Published 01/25/2023, 4:00 PM EST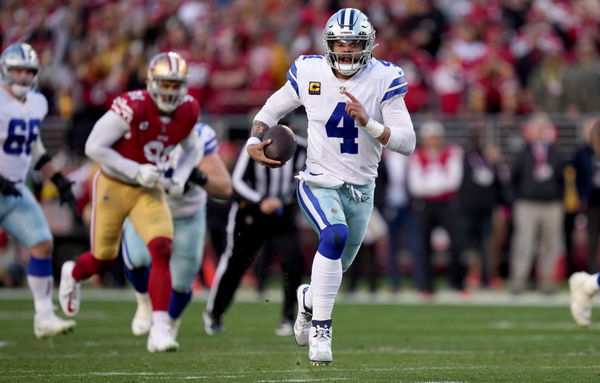 Skip Bayless is still reeling from Sunday night's playoff loss for his Dallas Cowboys. America's Team lost 19-12 to a formidable 49ers team. However, the host of the 'Undisputed: Skip and Shannon' debate panel feels that the loss could have been avoided if the Cowboys didn't put so much faith in Dak Prescott.
The controversial announcer and co-host of Shannon Sharpe would have put his eggs in Cooper Rush's basket if he had the choice. The Dallas backup QB played 5 games this season in Dak Prescott's absence. And fans reacted with both support and animosity.
Skip Bayless' Dak Prescott diss
ADVERTISEMENT
Article continues below this ad
Skip's frustration after the Cowboys' loss was somewhat justified. The Dallas defense played at a championship level, stopping the Niners to only one scoring play TD from Christian McCaffrey. But the offense let them down. And for the seventh time since their last Super Bowl in 1995, Jerry Jones' men succumbed in the divisional round. Skip didn't waste time after the game and threw his Prescott jersey in his waste bin.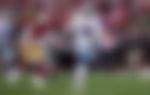 However, Skip still doesn't think Cooper Rush is a better quarterback than Dak. He just thinks Rush would have been the right choice against the San Francisco 49ers and their No 1 ranked defense in the league.
"Dak Prescott is better than Cooper Rush. But Cooper Rush would have won that game yesterday. Because Cooper Rush is exactly what I needed yesterday. I needed a quarterback who can handle the offense and make just a couple of big throws at the perfect time just the way he clutched up against Cincinnati and up at the Giants on MNF. I just needed a couple of throws. He has a little better command to efficiently and consistently run the offense than Dak," Skip laid out his views on the show.
Fans think Skip was not in his right mind to compare the two
Dak Prescott is still a top-10 quarterback in the NFL despite leading the league this year in interceptions (15). He added 2 more picks in the last postseason bout against the 49ers. This came after a flawless 5 touchdown wipeout of Tom Brady and the Tampa Bay Buccaneers. And some fans were bewildered by the inconsistencies and agreed to Skip's assessment.
He's right 🤦🏽‍♂️…Dak had some nice plays but didn't show up when we needed em..just needed him to good not even great yesterday and that woulda won it

— Pierre Bless (@PierreBless) January 23, 2023
Not wrong, you don't win super bowls with a QB that throws that many inceptions in a season. It just doesn't happen

— OutWestBets (@outwestbets) January 23, 2023
I don't like skip but he's right. Cooper would've won that game. We didn't need too much we just needed more than what Dak can't do. That was a simple low scoring game that didn't need Dak trying to be more than what he is

— Rizz Enthusiastic (@TheRealRizzE) January 23, 2023
However, most fans ridiculed the analysis, considering Dak's impressive resume outmatching Cooper's.
Skip has a trash take? Must be a day ending with the letter Y

— Blake (@BearLovesKer) January 23, 2023
The a stretch Skip! Dak is better than Cooper in terms of dealing with the pass rush. However he is not better by much due to his interception.

— KALE (@lka1511) January 23, 2023
Some analytical NFL fans gave the deserved plaudits to the San Francisco 49ers' defense who locked up Prescot and his men.
Look I get Dak isn't very good but there's not a QB in history who would have looked good against that defense yesterday

— . (@gamecocktide) January 23, 2023
Is it safe to say Skip is a goof of the highest level? San Fran D was stifling. Cooper would've thrown 6 ints.

— Lucha Dad (@LuchaFamily) January 23, 2023
I don't think anyone was beating that defense yesterday… certainly not dak or cooper rush. Whatever

— kurty (@kurtis_bateman) January 23, 2023
These dudes shouldn't be allowed to vocalize or display that they have a favorite team

— Tommy (@TGREYYY) January 23, 2023
ADVERTISEMENT
Article continues below this ad
Cooper Rush showed impressive nerves on the field when he engineered comeback drives against the Bengals and the Giants in Weeks 3 and 4 of this season. However, in his last start for Dallas, Cooper threw 3 interceptions against the NFC's No 1 seeded Philadelphia Eagles.
But Dak has thrown away a playoff game against the Niners for two consecutive years now. And the mixed reaction to Skip's comments makes sense.
ADVERTISEMENT
Article continues below this ad
WATCH THIS STORY: Tom Brady opens up about interesting incident to trip this Cowboys safety
Skip Bayless thinks Cooper Rush will end up as the starting quarterback for another franchise next year. And he believes his Cowboys' drought for the Lombardi will carry on with Dak in charge.