'What's Up Mom, Glad You Made It!': Travis Kelce Gets a Wholesome Surprise After Huge Win Against Steelers
Published 01/17/2022, 11:22 AM EST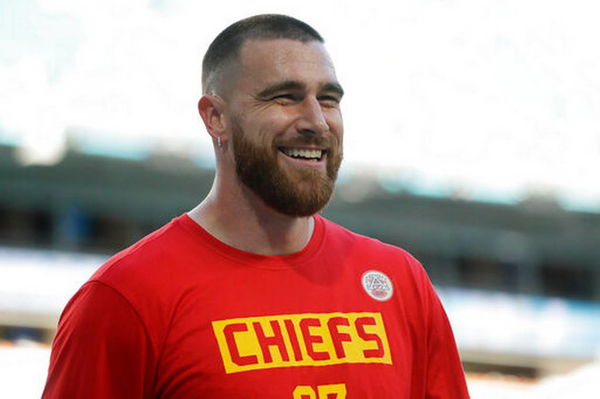 The tight end Travis Kelce and the Kansas City Chiefs advanced to the next round of the playoffs. Many fans, including the Steelers QB Ben Roethlisberger, predicted this result. The Chiefs were the favorites to win this game, and that is exactly what they did. 
After the game, the reporters caught up with the tight end. During the post-game press conference, Travis Kelce got a very special surprise from his mother. It was unexpected, and it made the day of Kelice way more special. The supermom traveled a long way to see both of her sons Jason, and Travis Kelce, play in the playoffs. 
Travis Kelce threw a TD pass against the Pittsburgh Steelers
ADVERTISEMENT
Article continues below this ad
During the wild-card game against the Pittsburgh Steelers, Travis Kelce did something unique. The Kansas City Chiefs tight end became the first tight end to throw a touchdown in a while. Previously, we saw this being done by the Philadelphia Eagles TE Trey Burton. Burton did the unthinkable during the Super Bowl LII game. 
Travis Kelce threw his first touchdown in his NFL career. Kelce was the quarterback for his high school football team. He also played some games as a QB in college. But ultimately, Travis decided he was a good fit in the TE position.
During the first minute of the fourth quarter, Kansas was on the attack. On a play near the end zone, Patrick Mahomes handed Travis Kelce the ball. Kelce threw a two-yard pass to Byron Pringle for the touchdown. This moment made his momma proud. 
Travis receives a special surprise from his mother
After the game, Travis Kelce did the post-match interviews. When the interview started, a journalist said that we will be hearing from Donna Kelce first. The look on Travis's face was confused. Then he saw his Mom Donna on the screen.
ADVERTISEMENT
Article continues below this ad
Travis greeted his mother, "What's up, mom? Glad you made it." Donna had just traveled 1200 miles after watching her other son, Jason Kelce's not-so-great playoff game. Donna asked Travis about the TD pass he threw. "To finally throw a touchdown like I used to tell my mom when I was like five years old that I was going to eventually throw a touchdown in the National Football League, I finally got it done," he adds, "It only took me nine years. That's a good question though, Mom." 
ADVERTISEMENT
Article continues below this ad
It was a sweet and wholesome moment between a mother and her son. 
Watch This Story: 2021 AP NFL All-Pro teams First Team: DE, DT, K, P, KR; TJ Watt, Aaron Donald, Justin Tucker, and More