Where to Watch the Tua Tagovailoa Series? 'Tua' Premiere Date And More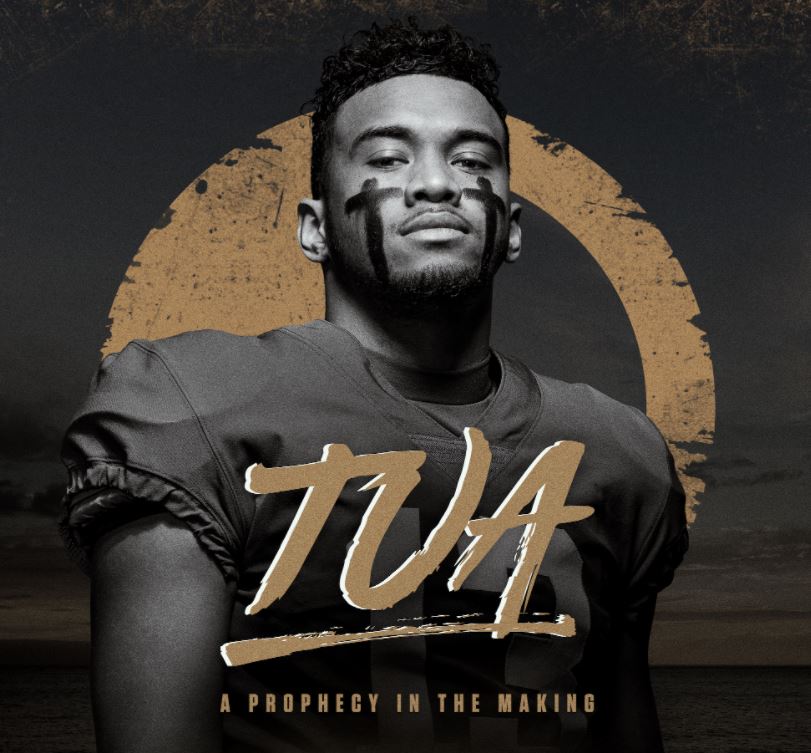 In the Hawaiian context, the name 'Tua' essentially translates to 'behind'. But if anyone knows the story of a certain former University of Alabama quarterback, they will say otherwise.
Hawaii-born Tua Tagovailoa was born in the town of 'Ewa Beach in Honolulu. As a young kid, he expressed a deep interest in sports, especially football.
He was close to his grandfather, Seu. He was a respected member of the local Samoan community and somewhat of a role model to Tua. After Seu's death in 2014, Tua contemplated the idea of quitting football. But his father convinced him otherwise.
During his High School days, Tua was considered one of the Top-10 quarterbacks in America. While playing for St Louis High School in Honolulu, he was chosen to be a part of the Elite 11 roster as one of the top high school quarterbacks in the nation. He was later named MVP.
After graduating, Tua had 17 offers to play college football with some of the best teams in the country. Tua declared that he would join the University of Alabama in 2017 and the rest, as they say, is history.
ALSO READ – "Betting on myself" – Dallas Cowboys Rookie Trevon Diggs Confident In Himself
Latest Tua Tagovailoa film to premiere this Sunday
Get your 🍿 ready…

Experience @Tua Tagovailoa's journey from @AlabamaFTBL to the @MiamiDolphins.

"TUA" premieres on Sunday, September 6 at 4:00 PM ET on FOX. pic.twitter.com/6aOLFcqge1

— FOX Sports: NFL (@NFLonFOX) August 12, 2020
Tua impressed during his time in Alabama. After not playing a single game in 2017, Tua grabbed headlines in 2018 for his impressive displays during the college football season.
He continued to put in some strong displays in 2019 before tragedy struck in the game versus Mississippi State. Tua was sacked and suffered a nasty hip injury, broken nose, and concussion. He underwent surgery two days later in Houston.
Despite his injury, Tua asserted that he would declare for the 2020 NFL draft. He was picked by the Miami Dolphins as the fifth overall pick in this year's draft. The movie 'Tua' covers his entire journey from the University of Alabama to the Miami Dolphins in the NFL.
Where and when to watch the film?
You can catch the film on FOX broadcasting services on September 6, 2020. The production will premiere at 4:00 PM ET. Here's a small snippet of the film which was shared by the production house.
Behind The Scenes with @Tua the night of the Nashville tornado.

Check out the Tagovailoa family's inspiring story on @FOXTV tomorrow, Sunday 9/6, at 4pm ET/1pm PT 🙌@NFL @MiamiDolphins @AlabamaFTBL @NFLonFOX @DilfersDimes @ColinCowherd @ShannonSharpe @CharissaT @ESPNNFL @espn pic.twitter.com/egdl5AP51b

— GOAT Farm Media (@GOATFARMMEDIA) September 6, 2020
Tagovailoa's comeback story is only starting as he gears up for his year in the NFL. The Miami Dolphins' Head Coach, Brian Flores, had earlier said that he was happy with Tua's progress in the offseason.
They start their 2020 campaign with a clash against Bill Belichick's mighty New England Patriots. It will be interesting to see if Flores takes a bet on his young rookie quarterback in Week One itself.
ALSO READ – Running Back Adrian Peterson Signs Short-Term Deal With Detroit Lions