While 44-Year-Old Tom Brady Celebrates Father's Day With His Kids, Fans on Twitter Savagely Roast His 'NFL Kids' Patrick Mahomes, Aaron Rodgers, Josh Allen and More
Published 06/20/2022, 9:30 AM EDT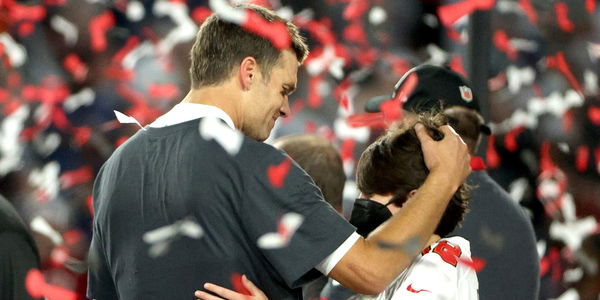 The NFL players had a great time on Father's Day. Professional football fans could see the children's affection for their athletic fathers. The players' flock also took the time to showcase their love for their fathers. Although some fathers, such as Tom Brady, have shown how they celebrated their special day. Instead, netizens had a roasting war over other NFL QBs.
Unlike other fathers, Tom Brady had a delightful method of celebrating Father's Day. The Tampa Bay Buccaneers quarterback used a megaphone from his recent partnership with Hertz, which he got during his promotional shoot. Brady then made a video on TikTok and posted it on Twitter.
ADVERTISEMENT
Article continues below this ad
In the video, TB12 uses the megaphone while roaming around the house. He informs his family regarding their day's routine and also looks for his lawn-mowing shoes. Brady also keeps the demand to have tacos for dinner and calls Benjamin and Vivian for dinner using it. The QB is an absolute GOAT for pulling it all together and becoming a commanding personality on his special day.
Although one thing looks straightforward, Gisele, Vivian, and Benjamin don't look thrilled with the megaphone.
Netizens troll other QB via the video of Tom Brady
The video by Tom Brady showcases the happy-go-lucky side of Tom Brady. However, fans on Twitter took the moment to mock other league QBs like Aaron Rodgers, Patrick Mahomes, and more.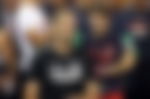 A user makes some appropriate use of Photoshop by morphing Rodgers, Mahomes, and Peyton Manning in the picture of the Brady family.
Another user makes the use of a picture to mock Patrick Mahomes, wishing TB12 a happy father's day.
A user simply wishes TB12 a good Father's Day.
Happy Father's Day to you Tom Brady

— Brandi Allen (@bel_allen) June 20, 2022
Moreover, a user wishes the 7-time champ a happy Father's Day.
A user gives TB12 the Father's Day well wishes and is excited to see him in white and red.
Happy FD #TB12! Ready 2 c u and the guys in pads. Any chance u get ur recievers together b4 camp? Especially the new/young guys, Gage, Darden, Grayson, Rachaad, Cade, Ko, Devin Thompkins

— Michael Myers of Sarasota (@unpopularshort) June 20, 2022
ADVERTISEMENT
Article continues below this ad
Moreover, a user wishes Both Tom Brady and his father Tom Brady Sr. a happy and well Father's Day.
Shout-out literally to Tom and Tom Sr. Happy Fathers Day !

— Eddie Liberati (@EdLiberati) June 19, 2022
ADVERTISEMENT
Article continues below this ad
Tom truly had a blast during his Father's Day celebration. The only thing to wonder is if he actually got his tacos for dinner, or did he have to follow his regular TB12 diet plan like the usual?
Watch This Story: Who did Bridget Moynahan date after her split with Tom Brady find out about her super rich new boyfriend