'Who Knows What's Going To Happen' – WFT QB Taylor Heinicke Remains Hopeful of Alex Smith Return
Published 02/28/2021, 1:56 PM EST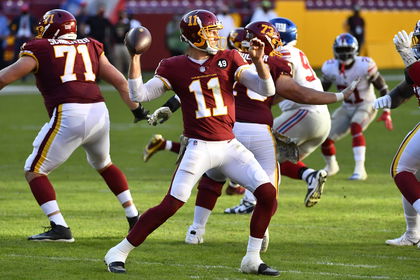 ---
---
The 2020 season was like any other for the Washington Football Team. The team with a new name is still searching for a new identity. It mirrors their quarterback situation involving Alex Smith and Taylor Heinicke.
ADVERTISEMENT
Article continues below this ad
While Alex Smith defied all odds to once again stake his claim as a starting QB in the NFL, Heinicke quietly established himself as a contender for Smith's spot overnight.
His admirable performance against the Tampa Bay Buccaneers which saw him get a touchdown was the closest any team came to beating Tom Brady and his side in the playoffs last season.
ADVERTISEMENT
Article continues below this ad
With a lot of talk going on about whether Smith will hang around with the franchise in 2021, Heinicke sure is one who is rooting for NFL's Comeback man to do what he does best.
Alex Smith more than welcome at WFT
Talking to NFL NOW, Heinicke said that he sure wishes the veteran QB is back with the side for 2021.
"He means a lot to the team… He brings a lot to the table. Hopefully we can bring him back," Heinicke said.
And while a lot of people on the squad do appreciate his presence, given the cutthroat nature of the league, Heinicke admitted that anything is possible.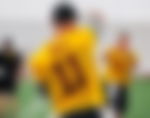 "I know a lot of the guys love him and he's good for the locker room and he can still play. But football's a crazy business. So who knows what's going to happen?"
Heinicke only played one game in the NFL last season. And that was when he was called on to fill in for the injured Alex Smith in the side's first playoff game for 2020. Incidentally, it was the quarterback's first career playoff game as well.
While the WFT ultimately lost that game, Heinicke said that Smith's friendly attitude ensured that the switchover was smooth and one without any unwanted distractions.
"It wasn't awkward at all… Alex is a great dude," Heinicke said.
ADVERTISEMENT
Article continues below this ad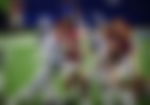 "He knows it was his team. If he was ready to go, he would've gone. It just felt like he wasn't ready to go during that week. He wasn't getting a lot of practice reps. I was getting the majority of them."
With uncertainty looming over the quarterback positions at Washington, who would be your pick as the starting quarterback for the franchise in 2021?
ADVERTISEMENT
Article continues below this ad