"Who's She Rooting For?": Proud Mom Awaits Kelce Bowl as Travis and Jason Chase Epic History
Published 01/31/2023, 3:47 AM EST

Follow Us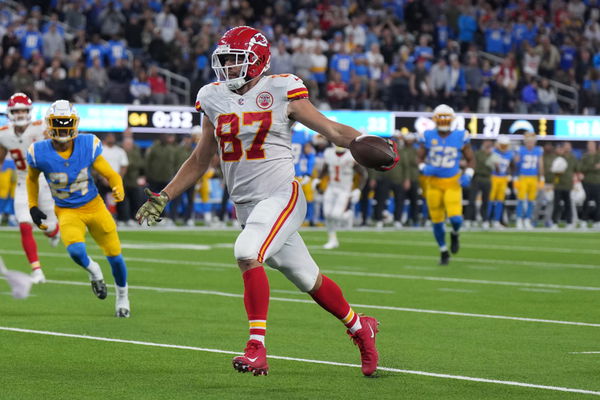 Jason and Travis Kelce just reached new heights. They have become the first brothers to face each other in a Super Bowl in NFL history. And Mother Kelce will have a really tough time supporting a team when she has to choose between the Chiefs and the Eagles.
The Kansas City Chiefs sealed their Super Bowl berth last night with a 23-20 win over the Cincinnati Bengals. Patrick Mahomes weathered through a high ankle sprain to break Joe Burrow's 3-0 win streak against the Chiefs. And the Mahomes to Travis Kelce connection was very obvious despite both of them not being at their full capacity because of injuries.
Travis Kelce had a historic playoff night
The Philadelphia Eagles also dominated the San Francisco 49ers 31-7 to win the NFC Crown. Jason Kelce and Jalen Hurts' men led the franchise to their second Super Bowl appearance in 5 years. And they won it the last time they played the Bowl. However, Jason and Travis' mother, Donna Kelce, will have the toughest choice to make at Super Bowl LVII.
Mahomes had a 326-passing-yards and 2-touchdown night. And Travis Kelce caught the first one of those. Kelce caught 7 receptions over 77 yards. Despite being questionable for the game because of back spasms, Travis made history as he caught up with future Hall of Famer Rob Gronkowski's 15 postseason career touchdowns. Travis and Gronk are tied in second place with the iconic Jerry Rice still leading the charts with 22.
Marquez Valdes-Scantling caught the other Mahomes dime. Chris Jones and The Kansas City defense also showed up intercepting Bengals QB Joe Burrow twice on the night along with 5 sacks.
Travis thinks Jason will have the edge in mom's support because of one particular reason
Jason and Travis are hosts of the New Heights podcast. And on a recent episode, the siblings discussed who is Donna's choice for Kelce Bowl among the two NFL stars. "I thought it was gonna be me, until this past week when she threw a dagger," Travis said.
Travis knew he was the favorite, being the younger of the two. However, Jason is enjoying an edge because of the granddaughter factor. Jason and his wife Kylie McDevitt gave Donna the honor when they welcomed daughters Elliotte and Wyatt Elizabeth Kelce into their lives. Also, the couple is expecting a third daughter next month.
However, Travis is still living a single life and is nowhere close to catching up with his brother. But Jason thinks the pressure on Travis to procreate is unreasonable.
WATCH THIS STORY: Did Tom Brady call Kansas City Chiefs superstar QB Patrick Mahomes overrated?
Travis Kelce was fired up after the win yesterday and even had a powerful message for the Mayor of Cincinnati's trash-talking before last night's game.
Both brothers have a Super Bowl each. And the competition will be nail-biting between the no. 1 seeded AFC and NFC sides. Which brother will come out victorious at the State Farm Arena and put their hands on the Lombardi?
Edited By: Deepika Bhaduri