Why did Green Bay Packers Draft Jordan Love in the First Round Despite Having Aaron Rodgers?
Published 04/26/2020, 3:03 AM EDT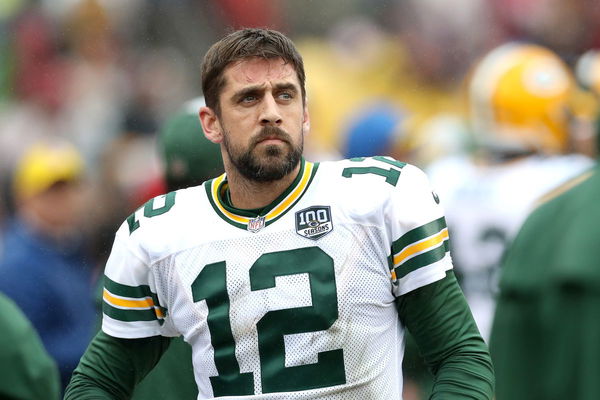 One of the 2020 NFL Draft's shockers came late in round one. The Green Bay Packers drafted 21-year-old quarterback Jordan Love with the 26th overall pick despite having 36-year-old Aaron Rodgers who is still playing at quite a high level. 
It stunned many as the NFC runners up were expected to go for a wide receiver to back up Davante Adams. Analysts also suggested the team would go for an off-ball linebacker or interior defensive line. They had 9 draft picks but perplexingly did not opt to bolster their roster with a single wide receiver.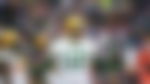 ADVERTISEMENT
Article continues below this ad
What infuriated fans further is that The Packers traded up and gave away a fourth-rounder for the new quarterback. Hall of Fame quarterback Kurt Warner shared his views on the polarizing pick.  
"I am surprised a little bit. Obviously, you have Aaron Rodgers playing for a few more years, but he wants to win now and wants to have weapons around him to give him the firepower to be successful, but it worked out well for him when they did it in 2005, so it seems as though they are building for the future." 
Planning for the time without Aaron Rodgers
This seems like the philosophy adopted by the Green Bay Packers war room. However, it was the first time since 2005 they drafted an offensive player in the first round. Rodgers at that time was the 21-year-old quarterback drafted in as the backup to 36-year-old Brett Favre.
A Washington Post article featured a Brain Gutekunst quote from last summer's training camp. The Packers GM said, "There's just so few of them that are truly difference-makers. If you think one has a chance, you better not think twice about it."
Former Packers GM Ron Wolf shares the same belief. He often said, "If you don't have a quarterback, you don't have a chance."
3 years ago in an interview with NFL Network's Alex Flanagan, the then 33-year-old Aaron Rodgers said, "I think I'm on the back 9 of my career." 
The comment came months after yet another NFC Championship game collapse. Make no mistake about it, Rodgers was phenomenal towards the end of the regular season. He threw 15 touchdowns and 0 interceptions in the final half a dozen games. In the playoffs, he threw 6 touchdowns before failing at his greatest hurdle once more.
The 36-year-old has not advanced beyond the NFC Championship game since 2011. He has fallen at this hurdle on 3 different occasions since then. 
Green Bay Packers' struggles in recent Playoff games
In 2014, the Packers blew a 16-point halftime lead and a 19-7 lead against Seattle Seahwakswith 5 minutes remaining in the final quarter. Here Rodgers threw 19/34 with 2 interceptions.
Rodgers' primary wide receivers Jordy Nelson, Randall Cobb, and Devante Adams were injured in the 2015 playoff defeat. The Packers were forced to overtime. Eventually, they fell to the Arizona Cardinals. Twelve months later, Adams and Nelson were in the team but were injured.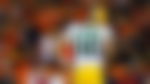 Here, the Green Bay Packers lost to the Atlanta Falcons. They failed to register a single point in the first half with Rodgers throwing 27/45 in the game. The same problem hit them last season too where the San Francisco 49ers raced to a huge lead. At 17-0 down he fumbled a snap. He did improve on passing, however, it wasn't enough as the first half deficit was too much to overcome. Rodgers' late pass getting intercepted didn't help matters. 
He can't be held solely responsible for these debacles. However, he is their main player and the offense needs to be built around him. As of now, the only reinforcement at wide receiver is Devin Funchess. The Carolina Panthers released him after his rookie contract expired.
It is not what fans would have been expecting as a crucial piece to help the star quarterback go for another Super Bowl. 
Is it the right move?
The draft and the intent means that they have seemingly given up on providing Rodgers with the pieces he needs to win right now. They seem to be using the time to rebuild while the core that took them to the NFC Championship game is intact. 
Are the Green Bay Packers right in keeping one eye on the future and having a quarterback ready for when Rodgers retires? Or did they miss a trick by not using the first-round pick to strengthen an area of concern right now? 
Based on the success they have seen with Favre and Rodgers as well as Rodgers' "back 9" comment, it seems to be the former. Time will tell if it was a masterstroke or a misstep by the NFL's most successful team.
ADVERTISEMENT
Article continues below this ad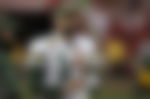 Or are they helping Rodgers out by managing his workload and blooding a youngster for the future? Can this be seen as someone who can step up in a crunch game like the NFC Championship? We can only speculate but as of now, one thing is clear.
Winning now is not on their agenda. But getting the right pieces and set up for success in the long run certainly is.
ADVERTISEMENT
Article continues below this ad
What is your take on this?
"Aaron Rodgers Should Feel Disgusted, Insulted" – ESPN Analyst Comments on Green Bay Packers' First Round Draft Pick