Why Is No One Talking About How Bulky Lamar Jackson Has Become? Ravens QB Packs On Pounds and Looks Imposing As Ever Amidst Offseason Contract Drama
Published 06/23/2022, 8:25 AM EDT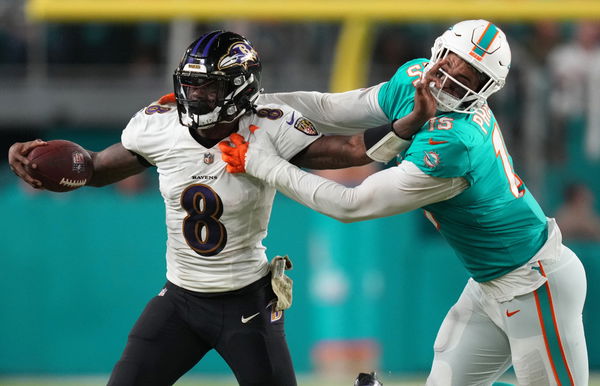 After Lamar Jackson returned for mandatory minicamps conducted by the Ravens at the team's facility, we saw an upgraded version of the star quarterback. One person who was the happiest on seeing Jackson return to practice was Ravens quarterback coach James Urban.
After missing his OTAs, when Jackson arrived for mandatory minicamps and he impressed everyone with his new physique. Jackson is now bigger and stronger and will be playing this season with the extra muscles he has gained. James Urban commented on Jackson and said, "Physically, he looks imposing. He looks very, very good."
ADVERTISEMENT
Article continues below this ad
Jackson has worked on his upper body and arms, which are thicker than before. According to the Baltimore Ravens' official website, the weight of Lamar Jackson is 212 lbs. But as he has gained extra muscles while working out this offseason, he now weighs 220 lbs.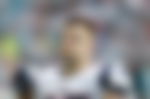 The 6 foot 2-inch Jackson said, "I just wanted to do it, see how it looks, see how it feels. And I feel good." Ravens QB coach James Urban further said, "Look, this is a game built for big, strong, fast men, right? So I think he's checking three of those boxes right now." Jackson also stated that he is now feeling stronger and that the extra weight he has added isn't interfering with his speed.
Lamar Jackson returns to Baltimore Ravens Mandatory camps after missing 9 voluntary practices
ADVERTISEMENT
Article continues below this ad
Urban thinks Jackson is now more consistent and that his buffed-up physique will help him do wonders in the game. Ravens coach praised Jackson's effort during the offseason and thinks he is ready to face his opponents in the upcoming season.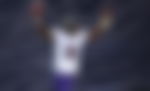 Urban is satisfied with Lamar Jackson's performance in the minicamps and said his throwing skills look good. Lamar Jackson will be entering his fifth season with the Ravens. Recently, he was in the news as he missed 9-voluntary practices with the team.
ADVERTISEMENT
Article continues below this ad
Analysts were claiming that Jackson might be thinking of leaving the Ravens as there have been some contract issues between them. But Jackson has always showcased how much he loves to play for the Ravens. Well, Jackson has now returned, and he looks stronger than ever. Will Jackson lead his side to the Super Bowl win this season?
Watch This Story- Colin Kaepernick Donated His Sneaker Collection in Epic Show Of Kindness to Help the Homeless