"Why U Always Hatin on Me?"- Aaron Donald Responds to Analyst Who Compares Him With Quarterbacks
Published 06/06/2020, 5:01 AM EDT
The NFL is all set to resume with a full schedule in the fall. In anticipation of the upcoming football season, Pro Football Focus released a list featuring the 50 best players for the 2020 season. The PFF50 ranked Los Angeles Rams defensive tackle Aaron Donald in the top spot. However, this has not gone down well with one analyst who expressed his displeasure with the list and prompted 6×Pro Bowler to respond.  
Aaron Donald is clueless to Skip Bayless' comments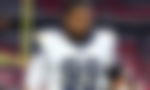 ADVERTISEMENT
Article continues below this ad
The 29-year-old tweeted, "Why u always hatin on me Skip?" Along with this was the video where the 'UNDISPUTED' analyst termed the list preposterous.
"What…Shannon Sharpe…This is..Preposterous, this is looney toons lunacy. This is asinine," said Bayless who commenced a mini-rant and expressed shock at 6× Super Bowl Champion Tom Brady tanking 24th.
Next, he quoted the PFF list, "Aaron Donald is the best player in Pro football by a distance? So that means that right here, right now the Rams would not trade Aaron Donald for Patrick Mahomes?… Baloney. They would… yes, they would in a heartbeat. They'd say please. We will do it, we will crawl all the way to Kansas City to pick him up and bring him back. You can have Aaron Donald. Oh, stop it."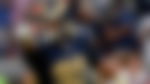 He proceeded to make a point involving the Rams offering Donald and Jared Goff to Tampa Bay Buccaneers for Tom Brady. 
Bayless said Tampa Bay "would laugh." He continues to mock Donald's placing on the list by saying, "He's never caught my eye." He brings up Tampa Bays' defense. "They got Suh, they got Vita Vea and they got Shaq Barett who led the league in sacks on one side and on the other side they got JPP."
He reiterates his point on Donald.
ADVERTISEMENT
Article continues below this ad
"They're good to go, they don't need Aaron Donald because he's not that valuable. He does not play quarterback."
ADVERTISEMENT
Article continues below this ad
What is your take on Bayless slamming the inclusion of players in other positions over quarterbacks? Is Aaron Donald right in calling him out?
"I'm Really Confident" – Cincinnati Bengals WR Opens Up About Joe Burrow