NFL Officiating Takes Center Stage; Joe Burrow Touchdown Throw to Tyler Boyd Should Not Have Counted Due to Erroneous Whistle
Published 01/16/2022, 2:56 AM EST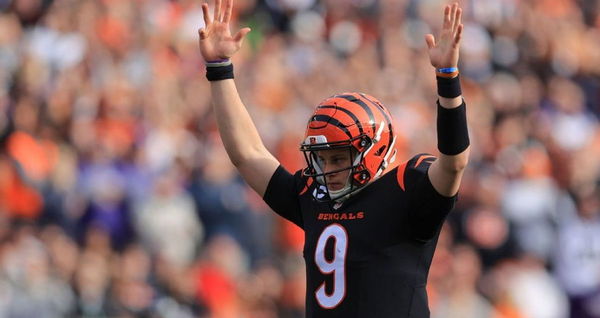 NFL officiating takes the front seat during the first Wild Card game of the season between Cincinnati Bengals and Las Vegas Raiders. A referee's erroneous move affected the very rule of the game, and Joe Burrow and the Bengals were given a touchdown, which they shouldn't have; had the rules been properly implemented.
The play in question was when, during the second quarter of the game, quarterback Joe Burrow scrambled to the right and threw the ball just before he stepped on the sideline. The ball was in the air when a whistle blew. Yet wide receiver Tyler Boyd suddenly caught the ball for a touchdown.
ADVERTISEMENT
Article continues below this ad
Although the play was perfectly fine, it was the whistle that caused the problem. However, it was not perfectly established as to if the whistle came from the crowd or the officials themselves. This caused a benefit of the doubt while deciding.
NFL officials display erroneous move as Joe Burrow throws a TD pass to Tyler Boyd
As per the NFL rules, "When an official sounds the whistle erroneously while the ball is still in play, the ball becomes dead immediately." Here, the rule states: "If the ball is in player possession, the team in possession may elect to put the ball in play where it has been declared dead or to replay the down."
ADVERTISEMENT
Article continues below this ad
This implies that the touchdown should not have been counted and the play should have been replayed. Yet the touchdown was given to the Bengals and the home team led the scoreboard by 20-6. However, it was not an ideal situation for the Raiders. In fact, it was far from it.
ADVERTISEMENT
Article continues below this ad
Yet still, the Raiders tried to come back in the game later on. But failed to do so because of a series of incomplete passes that followed suit and in the end they missed their chance to level up the score in 4th and goal and just a few seconds left in the clock. And just like that, the Bengals were handed their first playoff win in 31 years.