NFL World Cannot Stop Crying After 5-Year-Old Kid Reduced to Tears by Stefon Diggs
Published 12/20/2022, 3:00 PM EST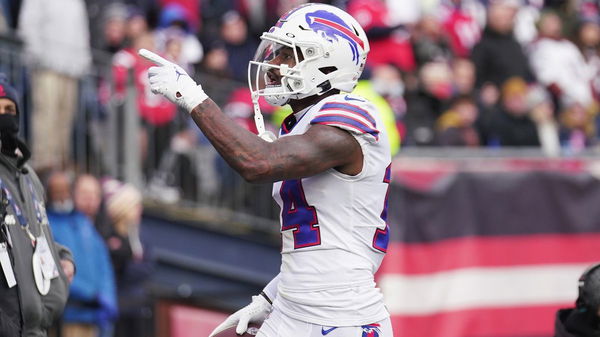 This Sunday, the Bills moved one step closer to the playoffs after beating the Dolphins in a close encounter. The game took place at the Highmark Stadium, the home ground for the Bills. Notably, the game's fan gathering was immense despite a lot of snowfalls. The fans certainly had fun during the game, as the authorities had to pause the game at one point due to fans throwing snowballs onto the ground. Meanwhile, one particular fan had an emotional evening thanks to a heartfelt gift by the Bills' WR Stefon Diggs.
Notably, after the game, Diggs went toward a five-year-old fan and gifted him a pair of shoes. It was a special customized pair of shoes, which made the young fan emotional.
NFL fans react to Stefon Diggs' amazing gesture toward a young Bills fan
ADVERTISEMENT
Article continues below this ad
The 5-year-old boy named Aydin, who lost his father a few months back, received custom shoes from Diggs in memory of his father. Moreover, Diggs signed those shoes, and the boys gave him a high five while crying. He said to the young fan, "Merry Christmas… Wish me luck."
It is worth noting that Diggs collaborated with Ayden a few months back when he attended a Bills game. At that time, Diggs gave him a signed football and Ayden gave Diggs a fist pump in return.
Earlier, the official Twitter handle of the NFL shared this video, which garnered plenty of emotional reactions from the fans. One fan shared a gif to express his feelings about the emotional video.
Another fan shared a video.
Many fans hailed Diggs for his amazing gesture toward the young fan.
Stefon Diggs coming to buffalo has been one of the greater things to happen to this city! He is truly embracing the impact he can have on people's lives. Being a positive role model is a beautiful and infectious gesture that will carry further than anyone can imagine!

— rocky gocella (@rockygocella) December 18, 2022
More fans lauded Diggs for spreading joy in Buffalo.
Absolutely agree, I love to see what he's doing over there. I hope he continues to be blessed and have a successful career; spreading joy to the city of Buffalo.

— Mr. Knew (@SoTaKnew) December 19, 2022
One more fan believes the video could make a grown man cry.
This really made this grown man cry 😢

So happy for that little man and this just shows how incredible and caring Diggs is. I wish him nothing but the best.

If the Bucs don't win, I will be cheering for the Bills and Diggs. He deserves it, this kid deserves it.

— Matt 🌽⭐️🏴‍☠️ (@HskrsStarsBucs) December 18, 2022
Another fan feels every player in the NFL should do things like that.
Every player in the NFL should be doing these types of things for kids. No reason not to. I am not famous, but if I ever was I would be doing these things every chance I got…Thee End !!!!

— Chad Kersten (@ND_Husker_Fan) December 19, 2022
One Twitter user pointed out that Diggs pulled the kid's cap down to give him a private moment.
He pulled his cap down twice for a very specific reason. Trying to give the kid a private moment. That's impressive.

— A Magnificent appeal to Heaven (@SugarLandSooner) December 18, 2022
Another fan talked about the incredible story of Ayden and his father and Diggs, as well.
It doesn't matter. But Really bro. Look up the story. It's really really cool. Even shows how much more of a great guy diggs is.

— James (@fletchjames80) December 19, 2022
ADVERTISEMENT
Article continues below this ad
One more fan believes Diggs just made a fan for life.
Diggs just made a fan for life. That kid will remember that for the rest of his life. It's so awesome to see players giving back. The NFL needs more guys like Diggs. #ClassAct #Respect

— Craig Reid (@ccmreid) December 18, 2022
ADVERTISEMENT
Article continues below this ad
Although Diggs did not have a great impact on the Bills' win over the Dolphins, he surely had a meaningful impact on the life of a young kid. On the other hand, the Bills are just one win away from clinching the playoff spot. Next Saturday, Josh Allen and the Bills will face the Chicago Bears. If they win that game, they will qualify for the playoffs; moreover, they will be close to clinching the No 1 overall spot in the AFC.
Watch This Story: Antonio Brown gets richer off of Josh Allen beating Patrick Mahomes in thrilling fashion