"Worst Mistake of My Life": Emotional Calvin Ridley Pleads I Am Guilty in Shocking Essay
Published 03/08/2023, 11:26 PM EST

Follow Us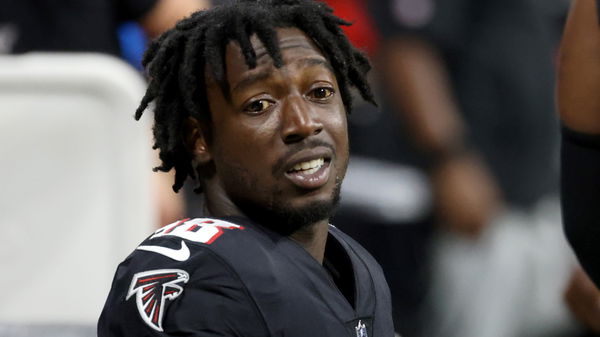 Calvin Ridley will be back on the football field from the next NFL season. The Jacksonville Jaguars wide receiver sat out the 2022 season after the NFL suspended him indefinitely in the last offseason on betting charges. He has always defended himself to date, but that dramatically changed after his reinstatement. Emotionally upset Ridley pleaded guilty in a dramatic essay.
The betting charges date back to the 2021 season when he was still with the Atlanta Falcons. And the WR gave his reasons for doing what he did back then.
Calvin Ridley's emotional essay reveals dramatic details
ADVERTISEMENT
Article continues below this ad
The Jaguars wide receiver Calvin Ridley penned a very emotional essay to own up to the betting charges. In an essay for The Players' Tribune, Ridley said that he wasn't in a good mental space during that period and made the worst mistake of his life.
"To the football world, and everyone who loves this game: I f***ed up. I'm not here to sugarcoat anything. In 2021, I made the worst mistake of my life by gambling on football," Ridley wrote in the essay.
He clarified that he wasn't trying to cheat the game, and he was away from the team for a month already. According to the Jaguars wide receiver, the days were very long, and he was looking for anything to take his mind off things.
"Whenever people ask, 'What were you thinking?" the only answer I can give is, 'I wasn't. When you're depressed, you're not thinking about anything in the future. You're just trying to get through the day," he added.
So Ridley was battling depression and anxiety at the time when he placed those bets. And he paid the price by sitting out of the football field for more than a year. But what exactly happened back in 2021?
This is the Ridley backstory, in a nutshell
Calvin Ridley stepped away from the Falcons team in the middle of the 2021 season. That was due to mental health issues. And in November of that year, he made some bets on the NFL games. And since then, everything went haywire for him.
ADVERTISEMENT
Article continues below this ad
The NFL laws forbid any player or official to bet on the game. And thus, the league took it seriously. They banned Ridley indefinitely in the 2022 off-season. The first window of reinstatement wasn't until after the 2022 season.
ADVERTISEMENT
Article continues below this ad
Post the 2022 season, Ridley applied for reinstatement and accepted it. But before that, he had changed teams from the Falcons to the Jaguars. So now, he will be in Jacksonville to do what he loves the most, play football. The fans can only wish him luck in the future.
Watch This Story: How Rich is NFL Star Patrick Mahomes Compared to Billionaire LeBron James and Aaron Rodgers?
Edited By: Abigail Kevichusa