"Wouldn't Have Worked if You Had Aaron Rodgers & Dwayne Haskins"- NFL Insider on Miami's Two-Quarterback System
Published 12/29/2020, 3:08 PM EST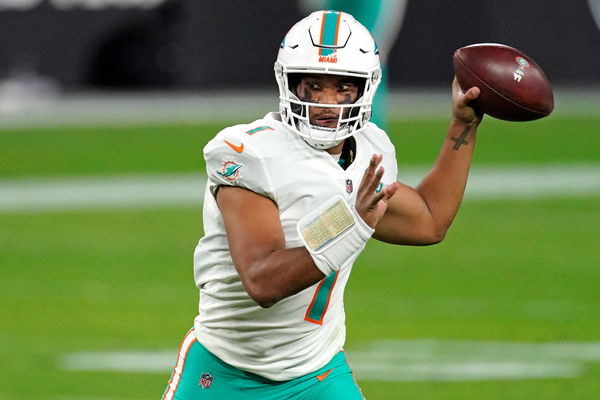 ---
---
The Miami Dolphins have really turned things around this season. After going 5-11 last time out, the Dolphins are now 10-5 with a game to play. Currently, second in the AFC East, the Dolphins have a shot at making their first playoff appearance since 2016.
ADVERTISEMENT
Article continues below this ad
Under second year Head Coach, Brian Flores, the Dolphins look like a rejuvenated side with a promising young quarterback in Tua Tagovailoa.
But a lot of the team's success hinges on their ability to utilize not just Tua but their veteran back up Ryan Fitzpatrick as well. Fitzpatrick has been quite a journeyman over the past couple of years.
ADVERTISEMENT
Article continues below this ad
Shifting from one franchise to the other, Fitzpatrick has amassed 165 NFL appearances with 8 different franchises. Known as the 'Harvard quarterback' Fitzpatrick brings with himself a bundle of experience, something that many feel is beneficial for Tua's growth as well.
Tua is the future for the Miami Dolphins
What Tua lacks is the experience, something that Fitzpatrick has in oodles. And coach Brian Flores has managed to utilize the two perfectly and achieved the best of both worlds.
Talking about the importance of the two getting along during a segment of ESPN's Get Up, NFL insider Dan Graziano highlighted Flores' role in the dynamics and the trust that the camp has in Tua going forward.
"There's 3 guys; because you add Flores along with the two guys that are the quarterbacks. Yes, unique individuals that are equipped psychologically and emotionally to handle it.
'Look Tua, You're our guy. We drafted you #5, you're going to be the starter here. But you're a rookie'. And Rookies have growing pains," he said.
No two others could've made it possible
The NFL insider also highlighted the guts it takes to pull off a gameplan like this and how this system would've failed had it been done with anyone else.
ADVERTISEMENT
Article continues below this ad
"It takes guts and good coaching by Flores to do it. And it takes the two guys who have the mentality that Ryan Fitzpatrick and Tua have to pull this off. It wouldn't have worked if you had an Aaron Rodgers and Dwayne Haskins," he said.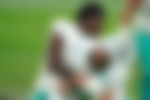 Because of Flores' recent successes, many have said that Flores should be declared as the coach of the year. While some may be divided over that, there's no doubt that Flores deserves a pat on the back for making the Miami Dolphins whole again.
ADVERTISEMENT
Article continues below this ad