WR Justin Jefferson Defines His Role In Minnesota Vikings Equivalent to Triple Crown Cooper Kupp With The Rams
Published 07/03/2022, 5:00 AM EDT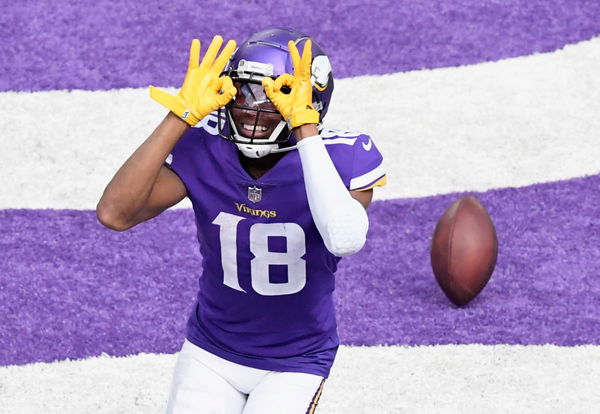 The Minnesota Vikings wide receiver Justin Jefferson is an emerging talent in the NFL. Within just two years into the pro-football league, the youngster has already sparked comparisons with the Rams superstar Cooper Kupp. It turns out that the veterans of the game have already nominated him for playing a Cooper Kupp-like role in the Vikings offense this season.
Surprisingly, the comparisons seemed to have caught the attention of Jefferson, who recently came forward to react to the comments.
ADVERTISEMENT
Article continues below this ad
The 23-year-old LSU alumnus got drafted by the Vikings in the first round of the 2020 NFL draft. Jefferson was successful in fructifying the trust the management vested in him.
He managed to seal a rookie record of 1400 receiving yards that year and subsequently achieved a Pro Bowl selection. Looking at his blaze and speed, the former Pittsburgh Steelers cornerback Bryant McFadden started drawing his predictions for the upcoming season.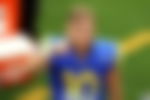 "Justin Jefferson will have that Cooper Kupp-like role for the Minnesota Vikings," McFadden said to a media outlet. "I mean, heck, not being involved in that type of offense, he gave up 1,600 yards a year ago," he added.
Meanwhile, Rams Offensive mastermind Kevin O'Connell has taken charge as the new head coach of Vikings from this off-season. Connell happens to be the same coordinator who helped Kupp amass an impeccable record of nearing a 2000-yard season.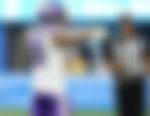 Thus, a similar kind of result is expected to emerge with Jefferson on the offensive side. Moreover, O'Connell has supreme authority to build and train his team.
Justin Jefferson reacts after being compared with Cooper Kupp
It is an incredible achievement for any youngster entering his third NFL season to spark comparisons with legendary receivers. It turns out that Jefferson has got his nerves and is equally competitive to face his idols.
ADVERTISEMENT
Article continues below this ad
"Pretty much where Cooper Kupp was at, that's pretty much where I'm at….but my ability to move in different positions is going to be more," Jefferson explained about his role in a recent interview. If the Louisiana native continues to maintain his streak, it won't take long for him to surpass the records set by Cooper Kupp over the years.
ADVERTISEMENT
Article continues below this ad
Last season, Jefferson came in second, just behind Kupp, by posting 1616 receiving yards. With a new head coach to his side, it will be interesting how much Jefferson manages to evolve as a player and establish his position in the league.
Watch This Story – Tom Brady Spills His Secret to Stay Healthy; Shares 6 Simple Steps