"You are gonna see a better version" – Analyst Believes Philip Rivers Will Make a Comeback
Published 05/30/2020, 8:00 PM EDT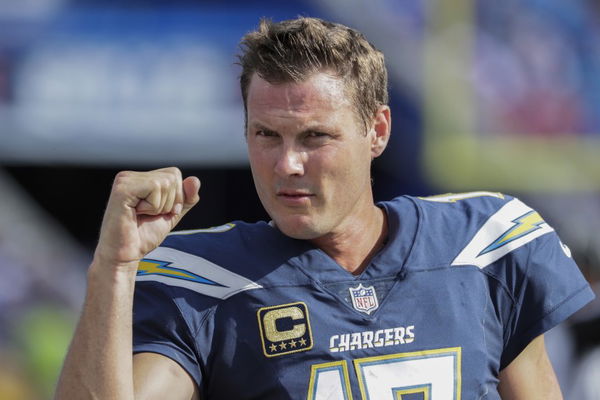 ---
---
Philip Rivers did not have a good season last year. He tossed away 20 interceptions and had three fumbles, contributing to the Los Angeles Chargers' disappointing performance. But as bad as Rivers' numbers appear prima facie, they could have been worse.
ADVERTISEMENT
Article continues below this ad
New Team, New Hope
After moving to Indianapolis Colts, Philip is hoping to bounce back and start afresh. According to analyst and former scout Daniel Jeremiah, Rivers was just too frustrated in his last season with the Chargers. "They were playing great upfront, and they were trailing in some games and he just was too aggressive," Jeremiah said. The turnovers kept piling up for the Colts' new quarterback.
ADVERTISEMENT
Article continues below this ad
Many believe, however, there is a lot of hope for Rivers this season. "I think you are gonna see a better version. There's a new scene there for him… but there's familiarity," Daniel added. He is already heard to be taking control of the virtual meetings with the team's offense. "The leadership has already stepped to the forefront there, with Philip Rivers."
Beginning September, we might have to get used to seeing the eight-time pro bowler we have seen before 2019. Former cornerback, Bucky Brooks believes that Philip is in a better setup with the Colts and expects him to bounce back. "We are talking about a team that can run the ball better… they have given him some weapons," Brooks said.
ADVERTISEMENT
Article continues below this ad
Is the Quarterback Really a Good Fit?
The Colts signing Rivers is most likely a consequence of his time spent with Head Coach, Frank Reich. The two were together at the Chargers from 2013 to 2015, and Reich makes this sound better than it really was. "I really think he's the same player he was five years ago physically and he's taken good care of his body", Frank said. Rivers, however, instead of playing it smart, made too many mistakes last year, and this is what is truly concerning.
While Reich may think Rivers will fit like a glove at the Colts, his new teammates might not think so. Philip will be the fifth quarterback who Center Ryan Kelly will be playing with since 2016. This means learning new patterns and styles once again.
ADVERTISEMENT
Article continues below this ad
Only time will tell if the 38-year-old is able to revive his old form. Perhaps Rivers will receive another NFL Comeback Player of the Year award next year.