"You Can't Go Back to That Dark Place"- Mitchell Trubisky Revels in Game-Winning Start to Season
Published 09/16/2020, 5:21 AM EDT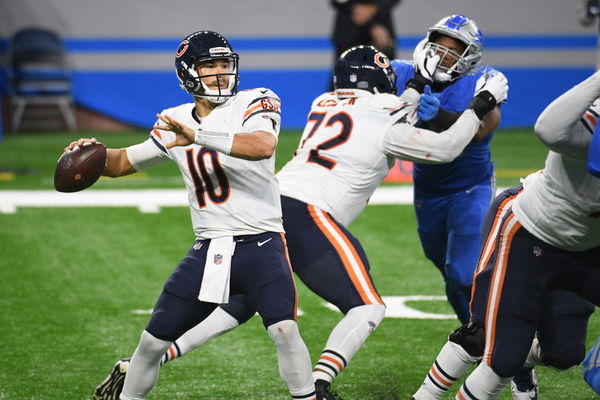 ---
---
Quarterback Mitchell Trubisky created waves three years ago when he became the second overall draft pick. He was drafted by Chicago Bears ahead of the likes of Patrick Mahomes and Deshaun Watson that year. But he failed to reach the same heights as the other two players.
ADVERTISEMENT
Article continues below this ad
He entered the 2020 season with a lot to prove. The Bears said that they would not take up the fifth-year option on Trubisky's rookie contract. Coach Matt Nagy also brought in Super Bowl-winning quarterback, Nick Foles, from the Jacksonville Jaguars in the offseason.
But he named Trubisky as his starter for the Week One game against the Detroit Lions, and he did not disappoint.
ADVERTISEMENT
Article continues below this ad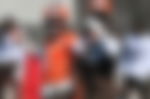 Chicago Bears quarterback Mitchell Trubisky reveals offseason struggles
Mitchell Trubisky led the Bears comeback in the fourth quarter against the Detroit Lions on Sunday. Trubisky was phenomenal throughout the game. He completed 20 of his 36 pass attempts and threw for 242 yards.
Trubisky also made three passing TDs. What makes that even better is the fact that all three of them came in the fourth quarter of the game. Here's what the young quarterback said about his thought process during a crunch situation in the final quarter.
"How do you avoid falling into thinking, Here we go again? You can't go back to that dark place. You can't go back to, My stats aren't any good. It's happening again.
"At times like that, I find myself focusing on my teammates, the guys you grind with. Our relationships run deep. We lean on each other. And I think you've just got to believe in yourself, believe you can do it, there's still time," Trubisky told ProFootballTalk.
Trubisky reveals his reaction when coach Nagy told him he would start in Week One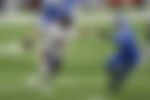 Here's what the former North Carolina player had to say about beating Nick Foles to become Bears' first-choice quarterback this season.
He said, "Coach called me in on a Friday, and he kind of was building up to telling me for a long time. I kind of didn't believe it at first. I was very detailed in my work.
ADVERTISEMENT
Article continues below this ad
"My back was against the wall, obviously, in camp, and all you can do is fight and move forward and show my teammates I can still be the guy. I was quiet, but I was happy. Really happy. Playing in the NFL is a dream come true for me. I will never take it for granted.
"At the same time, I'm totally grateful for Nick. He'a an amazing teammate. Here we are, in this competition this summer, and he'd say to me out on the field, 'Wow, great throw! Awesome! You're trusting it now, you're seeing it.'
"He's given me so many enlightening points. He's a guy I want in my corner," Trubisky added.
ADVERTISEMENT
Article continues below this ad