"You Guys Are All Drama": Tampa Bay Buccaneers WR Antonio Brown Insults Media Coming Back From Suspension
Published 12/27/2021, 3:06 PM EST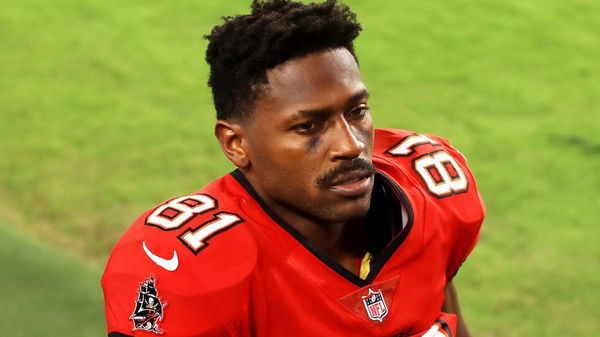 ---
---
Antonio Brown returned to the Tampa Bay Buccaneers after being suspended for three matchups. Upon his return, the wide receiver showed why he is considered one of the best wide receivers in the league. Even Tom Brady knew that his presence was necessary to go up against the Carolina Panthers due to a crippled squad.
ADVERTISEMENT
Article continues below this ad
Brown was suspended from playing as he got caught claiming false vaccination status. The Tampa Bay Times reported the story first. Following that, authorities investigated, and the Buccaneers cooperated with it through and through. The wideout was suspended after the Week 12 Colts matchup and reinstated to play against the Panthers in Week 16, which he did.
ADVERTISEMENT
Article continues below this ad
Following his 6-32 win against the Panthers, Brown was pretty confident on his display and was all set to answer some of the strategic questions thrown at him during the conference. Instead, the reporters asked him how he felt about the head coach Bruce Arians' trust in him despite his latest "screwed up."
Antonio Brown loses his calm
"I don't want to talk about that. You guys are all drama. It's all about football. We're going to talk about Carolina or I don't want to talk to you," Brown said. "It's a lot of drama you guys create, a lot of drama people create who want stuff from me. That's a part of life, a part of being in the position. I can't control what people want from me, what people write about me."
ADVERTISEMENT
Article continues below this ad
Brown lost his calm with the reporters, and he ended up insulting the media in the conference. He believes that all that media does is to make "drama" out of things. But clearly, the receiver has shown a blatant disregard for the NFL regulations, and now, for media.
As the Buccaneers move towards the playoffs, they will be retaining the rest of the squad very soon. And it will be fun to see the Bucs squad committing to the playoffs and hopefully reaching the Super Bowl yet again.
ADVERTISEMENT
Article continues below this ad
However, what do you think? Was it alright for Brown to lash out at the Media?