"You See a Play, and She Sees a Play…": 2x Super Bowl Champion Dishes True Thoughts on Women's Opinions on Football
Published 03/15/2023, 10:25 AM EDT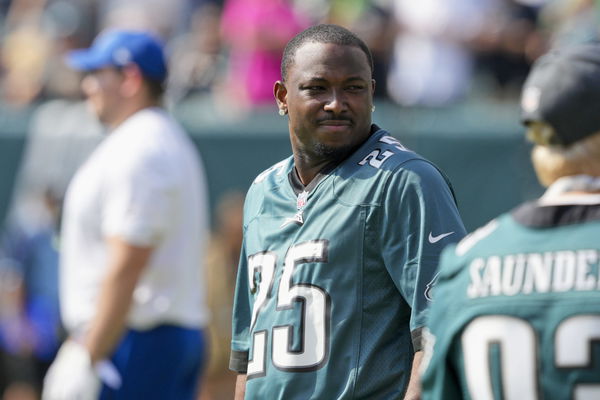 The NFL on-field universe is still predominantly a man's world. Be it the throwing and tackling or the broadcasting and commentary. However, a select few have shown the courage to still creep through these cracks of institutionalized sexism. And LeSean McCoy recently learnt a lot from one such power lady.
The two-time Super Bowl champion running back had a heart-to-heart conversation with FS1 sports host and media personality, Joy Taylor, on a special episode of Brandon Marshall's 'I Am Athlete' podcast. And Taylor shed light on how she aces the 'ball talk'.
LeSean McCoy elaborates on how men and women differ in football opinions
ADVERTISEMENT
Article continues below this ad
Shady was straightforward in his explanation. Women react differently to sports than men do. And that is science. However, McCoy, who is Joy's partner on the Fox Sports desk, is sometimes awe-struck at how Taylor's proficiency level surpasses most male analysts at times.
"As men, when we talk about football, let's say with your mom or your girlfriend. The football game is on. And you see a play and she sees a play. She'll see it differently than you see it. And you go what? Cause you think your opinion is right. But with her [Joy Taylor] she is the first woman. I remember listening to her takes. And I'm sitting like wow. She knows how to talk about football. She's the first one to actually 'talk ball talk ball' while sitting in the room with the fellas," McCoy said.
Joy's first response to the compliments? "I'm from Pittsburgh," she said.
The Fox Sports host cleared Shady's confusion
ADVERTISEMENT
Article continues below this ad
Yes, football runs in Joy's blood. Taylor is the sister of 3x first-team All-Pro and 6x Pro Bowler defensive end and outside linebacker Jason Taylor. Jason spent 15 years in the NFL, mostly with the Miami Dolphins, entering the Pro Football Hall of Fame in 2017. And growing up with his brother certainly helped her develop the gab for the game. But that's not all.
"I just grew up around women who talked about sports," Joy explained. Everyone from her grandmother to her aunts always had the pigskin on their mouths, and Sunday plans were never up for discussion in the Taylor household. "I played sports growing up, so I had that competitive passion in me already," she said.
ADVERTISEMENT
Article continues below this ad
WATCH THIS STORY: Ciara and Russell Wilson light up Vanity Fair Oscars party amidst $42 million fundraiser
Shady has played with both Patrick Mahomes and Tom Brady. And the former Chiefs and the Tampa Bay Buccaneers Lombardi winner will join Joy on the Fox desk as the free agency opens up today. And Taylor will very likely continue to amaze McCoy for quite some time.