Could Washington Football Team try To Emulate the Dolphins' Rotational QB Policy With Ryan Fitzpatrick?
Published 03/16/2021, 8:40 AM EDT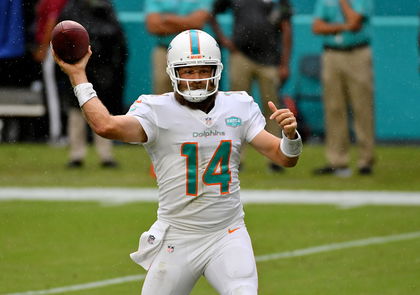 ---
---
Putting to bed rumors surrounding his retirement, quarterback Ryan Fitzpatrick joined the Washington Football Team ahead of the 2021 NFL season. Picked up by the franchise in free agency, Fitzpatrick signed a one-year, $10 million deal that could potentially go up to $12 million with incentives.
ADVERTISEMENT
Article continues below this ad
The quarterback was brought in by the franchise following their controversial decision to cut veteran QB Alex Smith. Now in Washington, though, Fitzpatrick will find himself in a spot similar to what he faced in 2020.
Before signing Ryan Fitzpatrick, The WFT extended the contract of QB Taylor Heinicke. While Heinicke's role was to play back up, he impressed all by putting on quite a show in the side's 2020 playoff game against the Tampa Bay Buccaneers.
ADVERTISEMENT
Article continues below this ad
Now 28, Heinicke isn't exactly what many would describe as a young prodigy, but his playoff performance has sure helped him burst into the spotlight after spending multiple years on the sidelines.
This thus prompts many to ask the question. Who will be Washington's QB1 one for 2021? Or will they even have a QB1 for the upcoming season?
Ryan Fitzpatrick could take on a rotational role
Fitzpatrick brings with him a wealth of experience. The QB has played for eight different sides before in the league and is a literal embodiment of the term veteran QB.
Taking on multiple roles throughout his career, his stint with the Miami Dolphins last season was perhaps his most intriguing yet. While having Fitzpatrick onboard, the Dolphins drafted rookie QB Tua Tagovailoa in the 2020 NFL Draft. Seen as the future of the franchise, Dolphins Head Coach Brian Flores made an interesting decision.
Tua and Fitzpatrick were rotated around so that the franchise could get the best of both worlds. While Tua was seen as the future starter, Fitzpatrick stepped in when the tough got going.
The veteran QB played a mentor-type role for Tua and helped the Dolphins almost make the playoffs. The WFT has a similar predicament.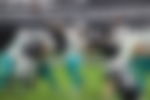 Heinicke is not quite as young as Tua, but is a talent with a lot of potential. But to say that he's ready to be the franchise's QB1 is a bit of a stretch. Fitzpatrick, with his experience in this role, is the perfect fit.
ADVERTISEMENT
Article continues below this ad
With Fitzpatrick there to cover up, Heinicke can take his time to run through the paces. And even if Heinicke isn't the QB many expect him to be, Fitzpatrick can easily play the role of bridge quarterback till the franchise gets a more permanent solution.
Thus expecting a similar rotational QB policy in Washington for 2021 is a genuine possibility. And one, we believe, can reap similar rewards like that of the Miami Dolphins of 2020.
ADVERTISEMENT
Article continues below this ad