Darnold or Fields? Who Could Be the New York Jets Quarterback for 2021
Published 12/27/2020, 11:09 AM EST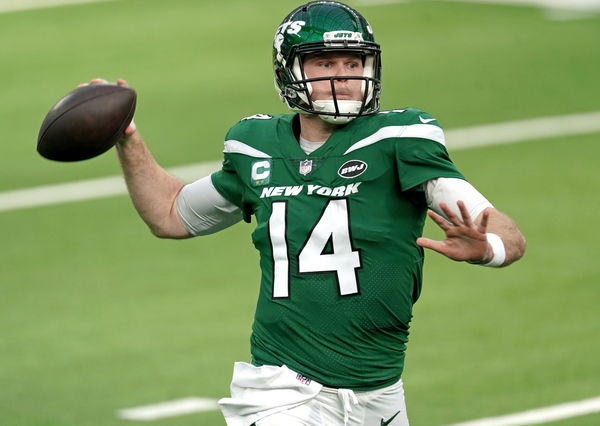 ---
---
The Tank for Trevor train has lost a bit of its steam among the New York Jets fans. Following their upset win over the LA Rams last week, the Jets are no longer in pole position to land Clemson quarterback Trevor Lawrence.
ADVERTISEMENT
Article continues below this ad
The Jaguars, who share a 1-13 record with the Jets, are now the front runners to land Lawrence. The Jets who looked like firm favorites to land Lawrence now must look at other contingency plans.
And for that, they don't have to look too far as according to multiple mock drafts, they could have their answer in Ohio State's Justin Fields.
ADVERTISEMENT
Article continues below this ad
New York Jets quarterback dilemma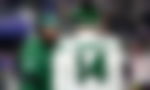 The Jets have an able quarterback in Sam Darnold. But going by his performances in the league so far, he isn't franchise QB material.
Darnold, who is going to be in the final year of his rookie contract in 2021, is well aware of the scenario in New York. If it were Trevor Lawrence, the Jets would've swooped in. But with no Lawrence, the future surrounding Darnold is unclear.
In Darnold, the Jets have an NFL-caliber quarterback. While his performances haven't quite lit up the league this season, it's hard to blame it all on him.
The Jets, overall, have been poor, very poor. Without much support from his teammates, there's very little Darnold can do to lift a team like the Jets. He's showed in the past that he can make plays.
But can he carry the franchise from the lower depths of the NFL hierarchy back to the Super Bowl-winning glory days of Joe Namath? It seems highly unlikely.
So the logical option for the Jets would be trading in the second-best QB in the draft, right? There again, one has to consider the quality available.
Justin Fields of the Ohio Buckeyes is a good quarterback, there's no doubt about it. But is he really going to be an upgrade on Darnold?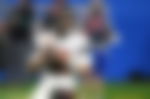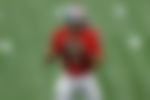 If recent performances are anything to go by, the answer is a big no. In his last 3 games, Fields has thrown 5 interceptions for 4 touchdowns. And his performance against the Northwestern Wildcats in the Big Ten championship game was especially woeful.
With a QB rating of 34.6, Fields' stock has definitely taken a hit. And Jets scouts have definitely taken notice. So with the inconsistencies that Fields brings along with his game, the Jets have an option.
Either build around Darnold with the bevy of draft picks at their disposal, or begin from scratch by taking a chance with Fields. Although, there is another QB who's been making a lot of noise.
The case for Zach Wilson
BYU's Zach Wilson has taken the college football scene by storm. With 425 passing yards and 5 touchdowns in the team's Boca Raton Bowl win over UCF, Wilson staked his claim for that second draft spot.
A dual-threat quarterback with the ability to churn out a few rushing touchdowns as well, Wilson could be a solid addition to an ailing Jets offense.
His quickfire arm allows him to make plays at the drop of a hat, while his elusiveness helps him avoid getting sacked as the pocket closes. A skill that could come in handy with the O-line that the Jets have right now.
ADVERTISEMENT
Article continues below this ad
The question, however, still lingers. Is he an upgrade over Sam Darnold? Well, he just might. At least he might end up being a better draft choice than Fields.
With 2 first rounds picks and 6 in the first 99 in the 2021 draft, the New York Jets have the potential to build something special. It probably won't happen overnight, but with the right picks, they can address a few other glaring areas of concern.
Regardless, a rebuild is looming, whether it will be with Darnold as QB or someone else, only time will tell.
ADVERTISEMENT
Article continues below this ad