Taysom Hill or Jameis Winston- Who Should Be the New Orleans Saints' New QB1?
Published 03/16/2021, 2:50 PM EDT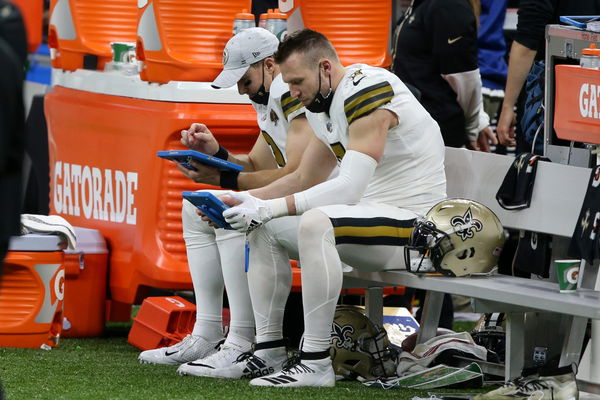 ---
---
After 20 long years in the NFL, New Orleans Saints quarterback Drew Brees finally decided to hang his boots up for good on March 15th. Brees, a legend of the sport, retired with 1 Super Bowl and multiple all-time NFL records to his name.
ADVERTISEMENT
Article continues below this ad
But now, with Brees out of the picture, the focus shifts to who will take over the reins as the shot-caller. And it looks like the Saints are going to rely on their in-house talent for this one.
Quarterbacks Taysom Hill and Jameis Winston have both signed new contracts with the franchise, signaling that the fight for getting the starting job will be a two-way tussle.
ADVERTISEMENT
Article continues below this ad
With it being clear that both quarterbacks will get a chance to prove their mettle, who would be the more viable option for the franchise in the long run?
New Orleans Saints have a tough call to make
Hill and Winston aren't elite quarterbacks. But they get the job done more often than not. Hill has been around the New Orleans system for a little longer than Winston, who will be starting his second year with the Saints.
Both are unique players. In fact, Taysom Hill is probably one of the few quarterbacks in the league who can play in almost every position on the field. But for now, let's stick to his quarterback skill set.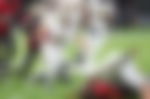 Hill is more of a scrambler who likes to venture out of the pocket every once in a while. Given that he has played as a wide receiver and a running back in the past, it's no surprise that he can rack up yards on the ground.
His passing ability was on full display when he covered for Drew Brees later last season as the latter was out for a few games with an injury.
Hill took over for four games and had a pass completion percentage of 72.7%. In that span, the Saints went 3-1. Not bad at all for a backup QB.
Is Winston a better choice than Taysom Hill?
Winston, on the other hand, is an outright QB. Blessed with a strong arm, his playing style draws parallels to that of Drew Brees. The 2015 1st overall pick has played as a starter in the past for the Tampa Bay Buccaneers with varying success.
In his last full season as a starter (2019), Winston became one of the few players to rack up over 5,000 passing yards in a single season. But what cannot be overlooked is the fact that he also threw a whopping 30 interceptions that season.
Both players have different skill sets to offer. But if you ask us, going with Hill would be the better choice. A gamble? Yes. Hill isn't quite the finished product, but he's familiar with Head Coach Sean Payton's system due to the time he has spent with the side.
ADVERTISEMENT
Article continues below this ad
On top of that, thanks to his ability to play on almost any position on the field, the Saints could go crazy with trick plays and wildcat formations.
Starting Hill would be a risk, a risk that the New Orleans Saints should be willing to take. If nothing else works out, they always have Winston to fall back on.
ADVERTISEMENT
Article continues below this ad
But the excitement that Hill brings to the side with his unique skill set is not something that any other QB could bring.