Will Sammy Watkins Help Lamar Jackson in the Playoffs?
Published 03/27/2021, 9:59 AM EDT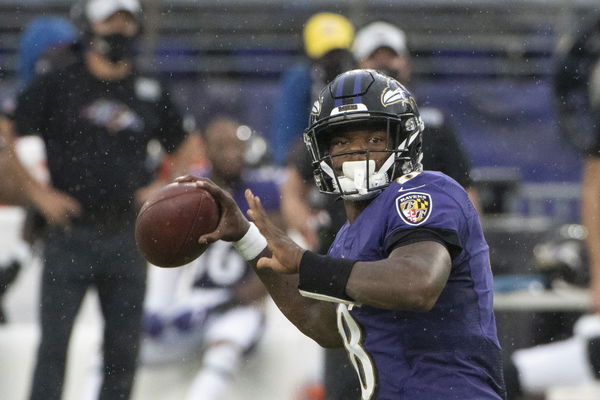 ---
---
For Lamar Jackson, life in the NFL has not been easy. A dual-threat QB, the 2019 MVP has been widely criticized for his passing ability. Drafted by the Baltimore Ravens in 2018, the QB is known to make a play by himself when the opportunity arises.
ADVERTISEMENT
Article continues below this ad
But that still isn't enough to please the naysayers. Much to Lamar Jackson's relief, he'll be getting some help in that avenue.
Lamar Jackson gets a potent tool to work with
ADVERTISEMENT
Article continues below this ad
The wide receiver corps available to Lamar Jackson at Baltimore hasn't been quite elite. While the franchise does have young wideout Marquise Brown, it lacks the experience needed to aid Jackson in the big plays. Especially the Playoffs. 
The Baltimore Ravens have tried to plug this gap by signing veteran WR Sammy Watkins to a 1-year deal. Watkins has previously played for the likes of the Buffalo Bills and LA Rams as well.
With 33 career touchdowns to his name so far, Watkins will definitely bring the expertise and skillset required for Lamar Jackson to elevate his passing game.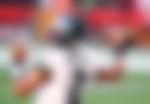 While the franchise tried to do the same with Dez Bryant last season, the experiment was not as successful. However, the fact to be noted is that Watkins comes into the side at the age of 27, whereas Bryant was 32.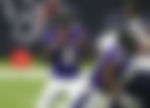 Watkins's experience will do a world of good for a franchise looking likely to draft a WR in the draft this year. While Watkins wasn't apparently the franchise's first choice, he's more than capable fit for the team's plans.
Watkins a perfect fit for the Ravens
Sammy Watkins has played in 7 NFL seasons so far. And statistically, his best year came back in 2015 when he was a wide receiver for the Buffalo Bills. 
What's interesting to note is that during Watkins' career season, his offensive coordinator was none other than Greg Roman. The same Greg Roman who is currently the Ravens' Offensive Coordinator. 
ADVERTISEMENT
Article continues below this ad
With the duo having done wonders in the past, it's only likely to see more of the same in 2021. Watkins will also fit right into the team's strategy with his speed and effective route running abilities. 
Jackson, who often has to run the ball to move the chains, will now have a veteran wide receiver to bail him out under pressure. With Watkins joining the Ravens, do you feel he'll help Lamar Jackson finally get across the divisional playoff round in 2021?
ADVERTISEMENT
Article continues below this ad
ALSO READ- Trading Up the Draft Ladder, What Do the San Francisco 49ers Have in Store for 2021?