Will the Chicago Bears Still Pursue Russell Wilson After Signing Andy Dalton?
Published 03/17/2021, 8:29 AM EDT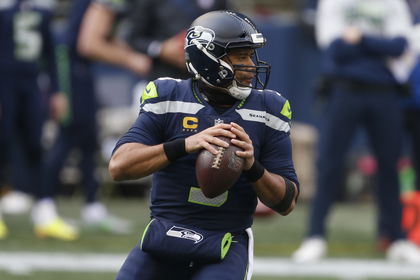 ---
---
Headlines in the NFL have recently been dominated by speculation surrounding quarterback trades. Quarterbacks Matthew Stafford, Jared Goff, Carson Wentz, and Ryan Fitzpatrick have all joined new teams this offseason. But arguably the biggest fish still up for grabs is Russell Wilson. 
ADVERTISEMENT
Article continues below this ad
The Seattle Seahawks QB hasn't been a happy customer of late. Publicly stating his resentment regarding the protection he receives from his O-line, Wilson is rumored to be looking for a trade. 
Even his own agent stated that while the QB hasn't officially put in a trade request yet, there are a couple of teams he'd be willing to join if the situation is right. 
ADVERTISEMENT
Article continues below this ad
Among them were the Chicago Bears. The Bears have been in search of a franchise QB for what seems like an eternity. Shuffling from one quarterback to the other, the QB position is clearly the team's kryptonite. 
A trade for Russell Wilson no longer a distinct possibility
The Bears experimented with two quarterbacks last season. 2021 NVP Mitchell Trubisky and former Super Bowl MVP Nick Foles. Both failed to garner the desired results. 
Trubisky, who was drafted by the Chicago Bears back in 2017 with their first-round pick, has since been released. And while Foles is still around, his consistent problem with injuries has cast a shadow of doubt over his playing career.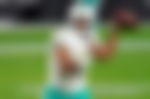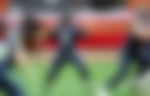 Thus drafting for a QB like Russell Wilson made perfect sense for the Bears. And according to rumors, they were one of the aggressive suitors looking to make the move. 
But the signing of free agent Andy Dalton now leaves this trade in jeopardy. Bringing in Russell Wilson would mean relegating Dalton and Foles as backup QBs. Something which seems highly unlikely to happen. 
The base for a Russell Wilson trade would involve at least 3 1st-round picks. Letting go of that sort of draft capital now seems unlikely, given Dalton's $10 million deal. 
ADVERTISEMENT
Article continues below this ad
While Dalton is an upgrade over Trubisky, he is no Russell Wilson. A player of Wilson's caliber doesn't come along ever so often. But saying that the Bears' hunt is over would be premature. 
The franchise could very well go for Wilson next season. But for now, it seems the road to Chicago is closed for Russell Wilson in 2021.
ADVERTISEMENT
Article continues below this ad
ALSO READ- New Orleans Saints Reportedly Interested in Free Agent Mitchell Trubisky