Former Super Bowl Winner Shannon Sharpe Compares Ravens' Lamar Jackson to NBA Star Giannis Antetokounmpo
Published 01/19/2021, 10:14 AM EST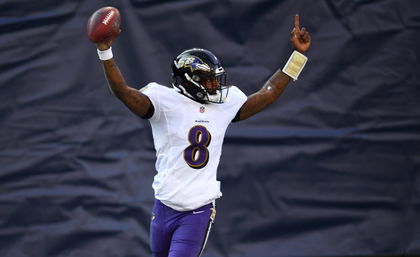 ---
---
Lamar Jackson faced more playoff disappointment this weekend. After getting his first playoff win in the wildcard round, Jackson and the Baltimore Ravens lost to the Buffalo Bills. This marks another playoff failure for Lamar Jackson.
ADVERTISEMENT
Article continues below this ad
Prior to the Playoffs, Jackson spoke about how he wants to change the reputation around the Ravens and the Playoffs. Former Super Bowl winner Shannon Sharpe spoke on Undisputed about Jackson's playoff collapse.
He believes that Jackson did not play well against the Bills. Sharpe noted that he was not criticizing Lamar Jackson's character, nor was he critiquing his exploits on the court. His criticism was strictly limited to the football field.
ADVERTISEMENT
Article continues below this ad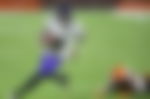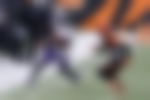 "Lamar wasn't playing well. When I critique any player, I'm not critiquing him as a person. I don't care about charitable contributions, I don't care what he does off the field.
"I am critiquing his play. If you believe Lamar Jackson is going to run the Ravens to a Super Bowl you are out of your mind." 
Lamar Jackson doesn't step up in the Playoffs?
Sharpe went further to compare Lamar Jackson to another MVP of a different sport – NBA's Giannis Antetokounmpo. He noted that both players are great during the regular season.
But during the Playoffs, teams zero in on their flaws, and force them to rely on their weaker assets, and force them into failure. He added, "Let me tell you who Lamar Jackson reminds me of. He's Giannis Antetokounmpo.
"He's an MVP level player and he'll have great success in the regular season. But when you get to the playoffs and they clam your b**t down, and you only have one dimension to your game. If Giannis can't Eurostep and dunk you, what can he do?"
Sharpe emphasized that teams use Jackson's poor passing in order to get him to turn over the ball. He pointed out how the Bills did just that.
ADVERTISEMENT
Article continues below this ad
And Jackson was not able to do anything once the Bills cut off all the running routes for Jackson, who loves to rush with the ball.
"Okay Lamar Jackson, we're going to take your legs away. We're not going to let you go for a buck fifty running the football. Throw the ball. Of the 24 passes that he threw, only five went 10 yards or further…
"Right now, Lamar Jackson is not a good enough thrower of the football to get the Ravens to where they need to be. It's simple as that."
ADVERTISEMENT
Article continues below this ad
Can Jackson help the Ravens win a Super Bowl? He has been with the Ravens for a long time now, and maybe time and patience are running out on Jackson to finally deliver what he has promised to do in the past.