"He Edges Out Tom Brady"- Terrell Owens chooses Patrick Mahomes over Bucs Star as the Current Greatest Quarterback
Published 02/03/2021, 3:02 PM EST ---
---
Patrick Mahomes and Tom Brady are set to butt heads this weekend. The veteran Brady and the Buccaneers will face Mahomes and defending champions Kansas City Chiefs.
ADVERTISEMENT
Article continues below this ad
The Super Bowl encounter between the two players is highly anticipated. Mahomes' only playoff loss in his career came against Brady. And now he will be hoping to exact some revenge.
Pro Football Hall of Famer Terrell Owens was a guest on Speak for Yourself earlier today. When asked about who he thinks is the better quarterback currently, Owens rallied behind Mahomes.
ADVERTISEMENT
Article continues below this ad
Furthermore, he believes that Mahomes is best placed to supersede Brady as the GOAT, especially given that Brady entered the debate much later in his NFL career.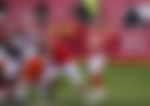 "When you talk about what they've done in the infancy stage of their careers, Patrick Mahomes edges out Tom Brady because Brady didn't become Tom Brady the great of all time that everybody is talking about right now until later on in his career," 
Owens added, "You look at what Patrick Mahomes has done in the first couple of years of his career, and now this is his second Super Bowl."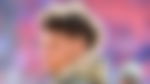 Patrick Mahomes better than Tom Brady right now
However, Owens further added that he doesn't consider Brady the greatest ever. In his eyes, Brady is still behind fellow-Hall of Famer Joe Montana.
While he thinks that the two players are incredible, Brady would still not surpass Montana in his eyes, purely from a talent level.
He said, "So when you talk about the greatest in that aspect of it, I'm leaning more towards Patrick Mahomes. But obviously, the greatest of all time in conversation you have to throw Tom Brady in there.
ADVERTISEMENT
Article continues below this ad
"My greatest of all-time quarterback is Joe Montana. If you want to throw Tom right after that, you can do it, but greatest of all time for me is Joe Montana."
Can Mahomes become the GOAT one day? He will have a tough task ahead of him this weekend when he takes on Brady in the Super Bowl.
ADVERTISEMENT
Article continues below this ad
But defeating Brady would be the first step for him to climb up the GOAT ladder. Mahomes must take Brady to the limit this weekend.