NFL Analyst Claims Patrick Mahomes is 'More Valuable' Than Tom Brady Ahead of Super Bowl LV
Published 01/29/2021, 10:45 AM EST ---
---
Patrick Mahomes and Tom Brady are set to do battle on the biggest stage in football. The Kansas City Chiefs face the Tampa Bay Buccaneers in the Super Bowl from Raymond James Stadium, the home of the Buccaneers. What has fans excited is the upcoming duel between Mahomes and Brady, two of the best quarterbacks of their respective generations.
ADVERTISEMENT
Article continues below this ad
NFL analyst Emmanuel Acho had some interesting comments on Speak For Yourself. He believes that Patrick Mahomes is more valuable to the Chiefs than Brady is to the Buccaneers. Acho noted that Patrick Mahomes playing well is the key factor in the performances of the Chiefs and pointed out how poor Brady had been in recent playoff games.
ADVERTISEMENT
Article continues below this ad
He said, "Patrick Mahomes is more valuable because the Chiefs' success is contingent upon Patrick Mahomes' success. Tom Brady has had three consecutive games in the playoffs with a completion percentage below 56%. That is terrible."
Acho further explained that Brady's completion percentage was not just poor in isolation. His numbers were poor, even in comparison to past quarterbacks in the playoffs. He believes that the performances of the team helped Tom Brady get by. But the narrative surrounding Brady is too strong for people to believe that.
"And if you want to know how bad it is, look at the context of the other quarterbacks in the past three seasons. Tom Brady, Trent Dilfer, Joe Flacco – Three quarterbacks over the last 30 years with consecutive games with completion percentages under 56%. If Tom Brady's name was Baker Mayfield, we'd be saying Tom Brady is being carried to this Super Bowl."
Patrick Mahomes – the key to the best offense in the NFL
Acho illustrated the difference in their value to their own teams with some interesting statistics. He pointed out that the Chiefs' defense was the best in the NFL, but their defense was far from it. Whereas, the Buccaneers' offense and defense rank, even compared to the rest of the league.
ADVERTISEMENT
Article continues below this ad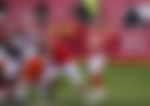 "Chiefs offense is number 1 in the NFL, their defense is number 16 in the NFL. Buccs offense is number 7 in the NFL, their defense is number 6 in the NFL. Besides the fact that the Chiefs team is predicated upon their offensive success, the nearest team is predicated on their collective success. Chiefs go as the offense goes, the offense goes as Mahomes goes. 
ADVERTISEMENT
Article continues below this ad
Who is more valuable to their team – Tom Brady or Patrick Mahomes? Both players have been instrumental to their team's success. The rise of Mahomes has allowed the Chiefs to win a Super Bowl, and return to one more. Whereas, Brady led the Buccaneers to a Super Bowl in his first season with the team. The argument can be made for both players.