NFL Analyst Says Tyreek Hill Has Changed the Narrative of a Wide Reciever
Published 01/25/2021, 3:03 PM EST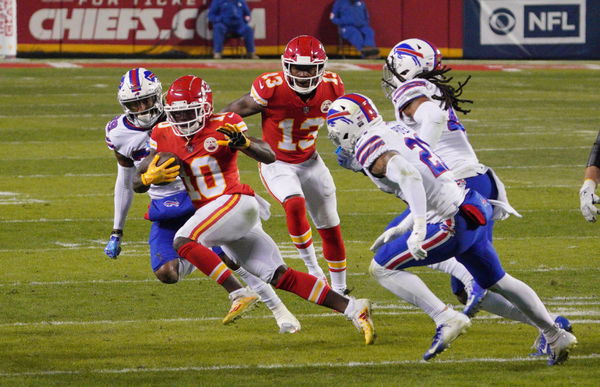 ---
---
The Kansas City Chiefs are back in the Super Bowl. Last night, the Chiefs defeated the Buffalo Bills in the AFC championship. Now, they have a date against the Tampa Bay Buccaneers at Raymond James Stadium. Tyreek Hill stole the show last night, putting on a wonderful performance against the Bills.
ADVERTISEMENT
Article continues below this ad
NFL analyst Nate Burleson spoke about Hill's performance during the game. He believes that Tyreek Hill is a trailblazer in the wide-receiver's position. He thinks that Hill, being undersized for his position, is changing the narrative around what a wide receiver needs to be.
"We are reluctant. I think as a group of fans when we watch players, specifically the wide receiver position, we think 6'3 – Davante Adams, Julio Jones type frame. It's over, it's a wrap for that. All those guys will forever be sought after. But Tyreek Hill has reset the narrative on what it means to be a wide receiver."
ADVERTISEMENT
Article continues below this ad
He believes that while big players like Davante Adams will always be the mold for the wide receiver position, Hill has completely changed the way a player of his size is perceived. He thinks that Hill's success in the NFL will encourage players to take a stand and insist on playing their preferred position. "That will always be the standard. But I feel like that 5'8 kid that's running a 4'2, 4'3. Instead of a coach saying you're a running back, or you're going to play special teams. He's going to be like ' no coach, I want to be the best receiver on the field.' Because Tyreek has hands, he can run routes, he can jump, he can do it all."
Tyreek Hill – a key player for the Chiefs?
Burleson pointed out that it is his presence that makes Tyreek Hill dangerous. He noted that teams often cannot take the risk of leaving Hill unmarked or with just one defender. Hill drags at least two defenders, which enables other players to take advantage.
"Here is the difference – and this isn't a shot at Davante Adams or a Steffon Diggs. What makes Tyreek Hill different is when he's not getting the ball, he scares the hell out of your defense. Davante Adams might not be the same decoy as Tyreek Hill. When Tyreek Hill is streaming down the middle of the field, there need to be dudes following him, or else it's a touchdown." 
ADVERTISEMENT
Article continues below this ad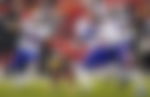 "Which means if two dudes are following him, who else is screening down the middle? Travis Kelce, Sami Watkins, any of those other guys. This is the house that Andy built. And I think Tyreek Hill is a sports car with shoulder pads, and Travis Kelce is that utility SUV."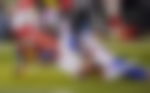 ADVERTISEMENT
Article continues below this ad
Can Tyreek Hill be a major player in the Super Bowl? Hill has proven to be one of the key players for the Chiefs, and he will continue to be a threat for them as the Chiefs begin to establish their dynasty in the NFL.
Trending Stories