All You Need to Know About Sarah Thomas, the First Woman to Officiate a Super Bowl
Published 01/20/2021, 11:10 AM EST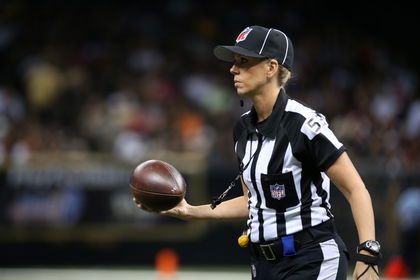 ---
---
When Tampa, Florida, hosts this season's Super Bowl, a member of the officiating crew will make history. Serving as a down judge, Sarah Thomas will become the first woman in NFL history to officiate a Super Bowl.
ADVERTISEMENT
Article continues below this ad
The 47-year-old has come a long way in her career to achieve this groundbreaking feat. Thomas started her career as a match official all the way back in 1996. That year she attended her first meeting of the Gulf Coast Football Officials Association. 
But before Thomas got into football, she was well immersed in other sports as well. 
ADVERTISEMENT
Article continues below this ad
Sarah Thomas- An academic all-American
Born in Pascagoula, Mississippi, Thomas attended Pascagoula High School while growing up. It was there that she lettered in the sport of softball. 
Thomas would later go on to attend the University of Mobile on a basketball scholarship and was an academic all-American. Over 3 seasons with the basketball team, she amassed 779 points, 411 rebounds, 108 assists, and 192 steals, which ranks 5th in school history.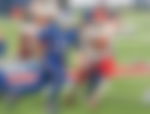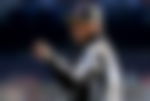 Sarah would soon go on to officiate her first high school game in 1999. And in 2007, she officiated a high school state championship game in Mississippi and an All-Star game as well.
Her work garnered some well-deserved attention. After the high school championship game, Thomas was hired to become the first woman to officiate a major college football game and from there on, even a bowl game.
Thomas was 1 of 5 female officials in major college football at that time. And the only one at the Football Bowl Subdivision level.
Thomas' early days in the NFL
In 2013, Thomas became 1 of 21 finalists in contention for a permanent NFL officiating position. After attending NFL officiating development programs and mini-camps, Thomas caught her first big break in 2015.
ADVERTISEMENT
Article continues below this ad
On April 8th, 2015, the league announced that Thomas would become the first permanent female official in NFL history. Later that year, she made history by becoming the first female referee by officiating a game between the Kansas City Chiefs and the Houston Texans on September 13th, 2015, as a line judge.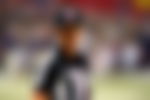 Thomas went on to officiate multiple games and eventually moved on to become a down judge. And now, as a down judge on referee Carl Cheffers' crew, she'll be officiating her first-ever Super Bowl game in Tampa.
ADVERTISEMENT
Article continues below this ad