Aaron Rodgers and Green Bay Packers Can Make NFL History with Win Over Tom Brady and Tampa Bay Buccaneers
Published 01/23/2021, 2:12 PM EST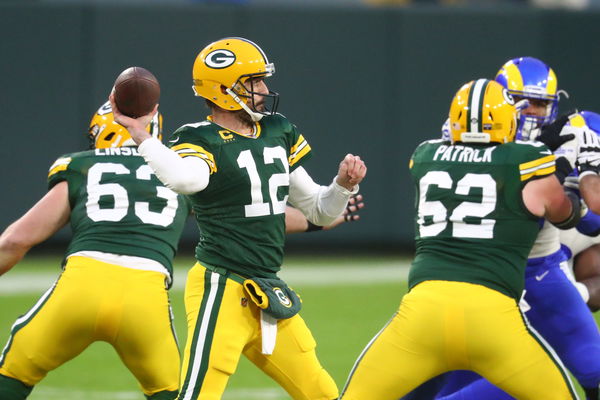 ---
---
Aaron Rodgers and the Green Bay Packers have had an excellent season this year. Rodgers helped lead the team to a 13-3 record, the best in the NFC.
ADVERTISEMENT
Article continues below this ad
Last weekend, they defeated the Los Angeles Rams in order to advance to the NFC championship game. Aaron Rodgers will now face off against Tom Brady for the first time in the Playoffs as the Packers take on the Buccaneers.
The Packers have a chance to make history this weekend. With a win over the Tampa Bay Buccaneers, the Packers will tie the historic New England Patriots for most NFL playoff wins.
ADVERTISEMENT
Article continues below this ad
Currently, the Green Bay Packers have 36 wins in the Playoffs, one behind the Patriots. Beating the Buccaneers would catapult them to the top, right next to the New England Patriots.
The irony here is that the Packers have to beat Tom Brady and his new team to tie Brady's old franchise at the record for most wins.
The most anticipated matchup of the Playoffs, without question, is the battle between Brady and Rodgers. The two are often considered the best quarterbacks of their generation.
However, Tom Brady has found more success in his NFL career. Tom Brady has won 6 Super Bowl titles in his career; whereas Aaron Rodgers has only won 1.
Many analysts have described the game between the Packers and the Bucs as a legacy-defining game for Aaron Rodgers. He could help his legacy by defeating Brady in their first playoff encounter.
Aaron Rodgers looking to cement his legacy
Tom Brady and Aaron Rodgers have always seemed to elude each other in the postseason. For most of Brady's career, he played for the New England Patriots in the AFC, whereas Rodgers was in the NFC with the Packers. They never had much of a chance to compete in the postseason. However, this clash was inches away from materializing back in 2015h.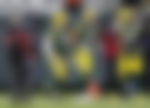 In 2015, the Patriots made the Super Bowl, and Aaron Rodgers had the chance to meet them there. All he had to do was defeat Russell Wilson and the defending champions, Seattle Seahawks.
ADVERTISEMENT
Article continues below this ad
However, Rodgers could not overcome them as the Seahawks went on to the Super Bowl, only to lose to the New England Patriots and Tom Brady.
Could this finally be the moment that Aaron Rodgers proves that he is better than Tom Brady? While Brady has won more Super Bowl titles, Rodgers can prove that it was because he never faced him in the Playoffs.
Rodgers walks into Lambeau Field this weekend to face the biggest challenge of his career. Can he emerge victorious?
ADVERTISEMENT
Article continues below this ad