Aaron Rodgers & Ndamukong Suh Set to Renew Their Rivalry in NFC Title Game
Published 01/20/2021, 11:01 AM EST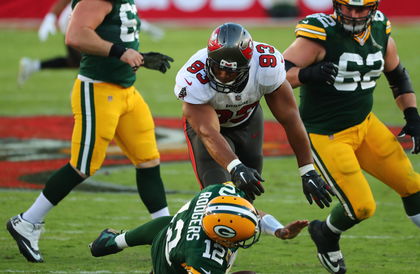 ---
---
The bad blood between Aaron Rodgers and Ndamukong Suh goes way back. To look into the origin story of this rivalry, one has to go all the way back to 2014.
ADVERTISEMENT
Article continues below this ad
Suh and Rodgers have shared a fractured relationship ever since. And the rivalry is set to be renewed this weekend when the Green Bay Packers take on the Tampa Bay Buccaneers for the NFC title game.
Aaron Rodgers is not a big fan of Suh
ADVERTISEMENT
Article continues below this ad
During a segment of the Pat McAfee Show, Rodgers was asked about how he plans on handling the Tampa Bay defensive tackle. And whether they're on amicable terms right now or not.
Rodger, however, didn't seem too keen on discussing the topic. "I don't think there will be a whole lot of conversation this week," said Aaron Rodgers.
The two shared a heated moment earlier in the season when they met in Week 6. The game against the Buccaneers was one of only the 3 losses that the Packers suffered this season.
And in the dying seconds of the first half of that game, Rodgers was viciously sacked to the ground by Suh. And Aaron Rodgers didn't seem too happy about it.
Tampa Bay registered a 38-10 win against the Green Bay Packers in that game. And the defeat remains the biggest loss of the season for the otherwise dominant Packers.
Keeping that scoreline and tackle in mind, Rodgers will have added motivation heading into the all-important title game.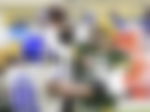 The Rodgers-Suh origin story
As stated earlier, to trace the origins of this rivalry, one will have to go all the way back to 2014. Then a part of the Detroit Lions, Suh took on Rodgers and the Packers in a Week 17 tie at Lambeau Field.
In the 4th quarter of the game, Suh was caught stepping on Aaron Rodgers' leg. While Rodgers let it slip the first time around, the second time he retaliated by shoving the defensive tackle.
ADVERTISEMENT
Article continues below this ad The incident led to Suh being suspended for a game, and the 2 have shared a frosty relationship ever since.
With the NFC title now on the line, the stakes are as high as ever for the 2 players. And fireworks going off won't be a surprise this time around.
ADVERTISEMENT
Article continues below this ad