'Aaron Rodgers Now Has the Power'- NFL Analyst Highlights Shift in Power Dynamics at Packers camp
Published 01/25/2021, 3:22 PM EST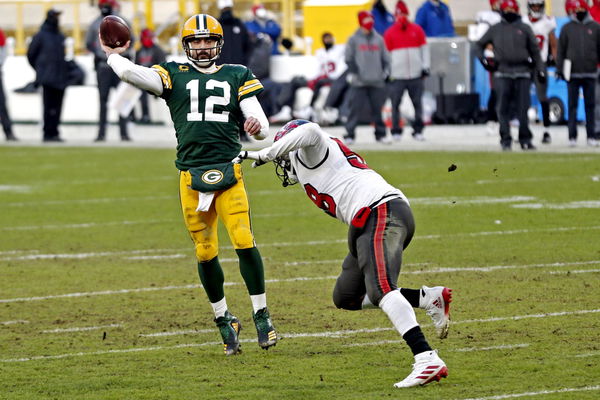 ---
---
The Green Bay Packers tumbled out of the Super Bowl race on Sunday, following a loss to the Tampa Bay Buccaneers at home. The loss also meant that Aaron Rodgers has to wait for at least another season for a shot at the Lombardi Trophy.
ADVERTISEMENT
Article continues below this ad
But will Rodgers be around with Green Bay for another shot at the Super Bowl? Or will he take his services elsewhere? That's the burning question on every NFL fans' mind right now.
Is Aaron Rodgers done with the Packers?
ADVERTISEMENT
Article continues below this ad
The Green Bay Packers were flying high on the performances of Aaron Rodgers all season. The QB had an MVP-worthy season from the word go. Rarely putting a foot wrong, Rodgers seemed destined for Super Bowl #2.
But sadly, his wait has been prolonged yet again. And many feel that the Packers organization has done little to help Rodgers' pursuit. The Packers' decision to draft QB Jordan Love with the 26th overall pick in the 2020 NFL Draft surprised many.
A number of fans and pundits claim that this was a power move from the Packers' management to show that they were keen on phasing out Aaron Rodgers. But following his phenomenal 2020 campaign, the tables have turned.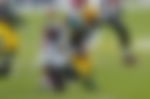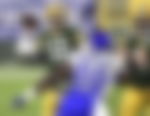 Shannon Sharpe, during a segment of FOX Sports' Undisputed, talked about how the power dynamics in the Packers camp has changed following the 2020 season.
"He's upset. You traded up to draft a guy who had no bearing in this offseason. When you could have gotten a defensive guy.
"You could've gotten a 0-linesman, a linebacker, a safety, or even a cornerback. But no. So now Aaron Rodgers has the power again," said Sharpe.
Rodgers now gets to pull the strings
The Packers QB deserves a 2nd Super Bowl ring. And many feel this was the best shot he had in years. But the Packers failed to perform as a cohesive unit to get over the final hurdle.
What's more, if rumors and speculations are anything to go by, Rodgers, now 37, might move on to greener pastures if the Packers fail to provide him the tools needed to mount a Super Bowl run.
"For Rodgers, it's like 'Convince me that you're gonna do what it takes in order for me to come back or else I want out," said Sharpe.
ADVERTISEMENT
Article continues below this ad
"The Green Bay Packers took the power last year by going to get a quarterback, they said 'We don't care, Aaron. We're gonna do this'. But 48 touchdowns and 5 interceptions. He's gonna be this year's MVP. Rodgers now has the power.
"You're gonna have to convince your guy that you're gonna build and that you're gonna put some pieces in place on the other side of the field. Or I'm gonna ask for a trade. He has the power," he added.
For Rodgers and the Packers management, a whole lot of soul searching awaits this offseason. Their next decision could be one of the biggest yet in franchise history.
ADVERTISEMENT
Article continues below this ad