Aaron Rodgers Talks About the One Thing Watching Tape Helped Him Fix in 2020
Published 01/28/2021, 12:11 PM EST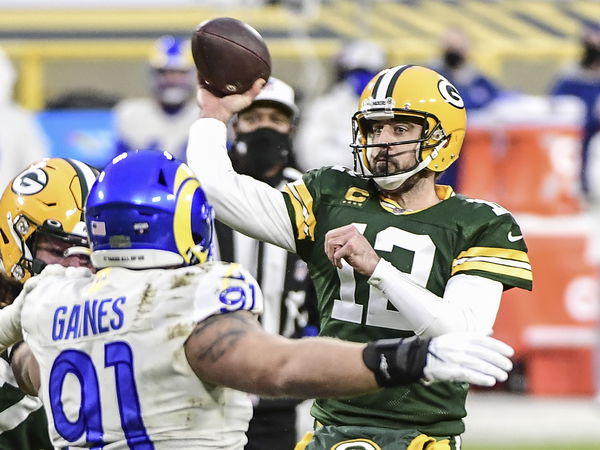 ---
---
Aaron Rodgers had a phenomenal 2020 NFL season. Throwing 48 touchdowns for only 5 interceptions, the QB played arguably some of the best football of his career. This is following the 2019 season, which many believed was a down year for Aaron Rodgers. 2020, though, saw the Green Bay Packers QB rally back to produce an MVP-worthy season.
ADVERTISEMENT
Article continues below this ad
The difference in output is something startling. 26 touchdowns in 2019 to 48 in 2020. So what was it that helped Aaron Rodgers near double his output this season?
Finding the right rhythm with the hitch  
ADVERTISEMENT
Article continues below this ad
During a segment of the PAT McAfee show, Rodgers talked about the one thing he picked up from watching tape before the start of the 2020 season that helped him replicate some of the form which helped him win his first career Super Bowl.
"I've loosely mentioned it a lot over the year, but the key that I saw was just the rhythm in my hitch. And I was realizing the thing that I was working on back then," said Rodgers.
"So much was the sinking into the hitch at the top of my drop. And that was one area that I think was lacking based on my injury and some of the adjustments I had to make fundamentally to deal with a knee and a leg, just wasn't as strong as it used to be."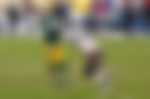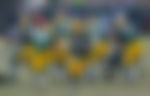 Rodgers thus proactively returned to weight lifting and squatting to regain some of the strength and confidence needed to sink deeper with his hitches. 
"That's part of the reason why I really got back into squatting. It was because I wanted to build that thing up so I could put a ton of weight and pressure into that knee and those legs. 
Because the deeper I was sinking into my hitches the more times I was throwing the ball. And I really just saw how much of an emphasis I was doing that in between 2009 and 2011," he said.
Aaron Rodgers replicating his form from a decade ago
Delving deeper into the topic, Rodgers talked about how perfecting a deeper stance with his hitch allowed him more time to get more accurate passes.
"What that was allowing me to do was throwing the ball on time a lot more. And all these games I was watching, my timing was very, very good. I mean that was literally the entire route tree and concepts, I was able to perfectly hitch to them," Rodgers said.
ADVERTISEMENT
Article continues below this ad
Crediting the rewiring of fundamentals, Rodgers achieved great success which ultimately helped him regain his stellar form. 
"And that's why I felt like I was so accurate. So from that point forward I really watched a few of those things. And the next day went out and worked on them and things just started clicking," he added.
With 2020 now done with, Rodgers will be hoping that the work he has done on perfecting his hitch will roll over to next season as well.
ADVERTISEMENT
Article continues below this ad