Adam Schefter Provides Update on Retirement Rumors Surrounding Aaron Rodgers
Published 01/23/2021, 1:56 PM EST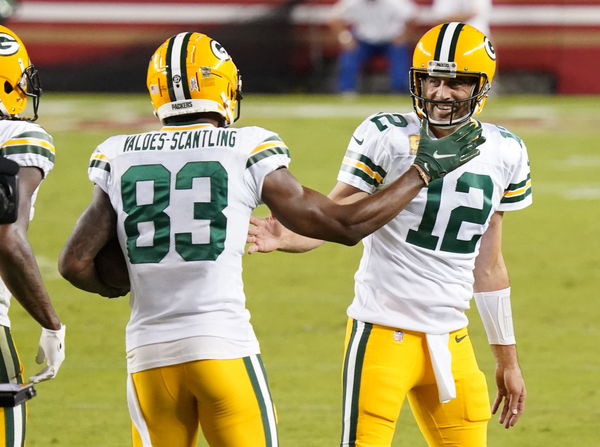 ---
---
Following the recent comments made by Aaron Rodgers regarding his future, NFL fans across the globe have been debating the quarterback's future in the league. 
ADVERTISEMENT
Article continues below this ad
During a recent press conference, Rodgers said his future remains a "beautiful mystery". The quarterback is set to take on the Tampa Bay Buccaneers in the NFL Championship game this Sunday, but a lot of the focus has been surrounding whether Aaron Rodgers is close to calling it a day.
Retirement rumors regarding Aaron Rodgers squashed 
ADVERTISEMENT
Article continues below this ad
NFL Insider Adam Schefter during a segment of ESPN's Get Up looked to put this story to bed. Schefter, a reliable source in the NFL, said that the odds of Rodgers retiring are slim to none.
"Listen, when he's playing at the level he is? There's nothing to view. He's there. He's the quarterback," said Schefter.
"You're going to move on from a quarterback who's the best player in the league right now? Who's playing at an MVP level? Who maybe never has played better than he has at this particular point in time?" Schefter proceeded to dismiss the idea as nothing more than just rumors. "So, again, it's fun to talk about, it's fun to wonder about. They drafted Jordan Love, but they got an NFC Championship game here on Sunday," said Schefter. 
With Rodgers playing some of the best football he's ever played this season, chasing a 2nd Super Bowl ring. And Schefter feels regardless of the result on Sunday, Rodgers will be here for the foreseeable future. 
"He's trying to build on the legacy that he's already created in Green Bay. Why is his future even a topic right now? What's the idea of that? What am I missing?" he added.
Rodgers a firm favorite for MVP title 
Aaron Rodgers has enjoyed a phenomenal 2020 season. For many, the quarterback is the front-runner for the regular-season MVP title and there's very little to argue against it. 
ADVERTISEMENT
Article continues below this ad
Throwing 48 touchdowns for just 5 interceptions, the Packers' QB is in the form of his life. Guiding his side to their 2nd consecutive NFC title game appearance, Rodgers will be keen on dispelling the ghosts of the past. 
His comments may have stirred up a media storm, but regarding the odds of Rodgers retiring, to put it in Schefter's own words, "All I can say is, don't get your hopes up."
ADVERTISEMENT
Article continues below this ad