Analyst Wants Dolphins to Draft Top Wide Receiver to Support Tua Tagovailoa
Published 01/11/2021, 12:51 PM EST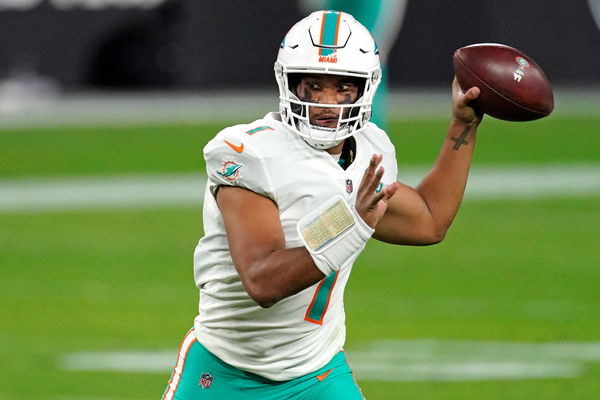 ---
---
Tua Tagovailoa's debut season with the Miami Dolphins had an anti-climactic conclusion. The former Alabama football star failed to lead the Dolphins to the Playoffs as they finished second in the AFC East behind the Josh Allen-led Buffalo Bills.
ADVERTISEMENT
Article continues below this ad
Coach Brian Flores' boys suffered a 56-26 defeat at the hands of the Bills in Week 17, which ended their NFL Playoffs hopes. Despite a disappointing end to his rookie year, Tua Tagovailoa showed signs of promise over the course of the last 2 months.
Tua ended the season with a 6-3 record as the Dolphins' starting quarterback. The youngster threw for 1,800+ yards with 11 passing touchdowns against 5 interceptions.
ADVERTISEMENT
Article continues below this ad
He will hold on to the starting quarterback berth in 2021 ahead of veteran Ryan Fitzpatrick. But what do the Dolphins need to do in order to support their young leader?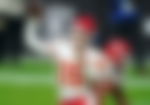 Tua Tagovailoa set for a breakout season in 2021 with Dolphins claims analyst
NFL analyst Dan Orlovsky made an appearance on ESPN's Get Up earlier today. The former Detroit Lions quarterback reckons the Dolphins should bring in a first-round wide receiver in the 2021 NFL draft event to offer Tua offensive support in his sophomore year.
He said, "They should be thinking really good offensive linemen, a really special wide receiver. There'll be two of them available and your top five picks…Tua is gonna be fine. He will be absolutely fine…
"Here's the thing. First of all, a poor offensive line. We've talked about that with the Dolphins and relatively poor skill players.
"And in a scheme that's poor, those three things with a young quarterback, you're going to struggle, okay, so they need to upgrade the offensive line still.
"They need to get better-skilled players, they need to get better wide receiver weapons on the outside, top to bottom. And then they need a scheme that's going to fit his skillset more on a consistent basis.
ADVERTISEMENT
Article continues below this ad
"He needs to be in something that the Saints run or something similar to what the Saints ran with Drew Brees," Orlovsky said on the show.
We all know that Dolphins fans are dreaming of a potential Tua Tagovailoa-DeVonta Smith reunion in 2021. The 2 players played together for the Alabama Crimson Tide football team.
The Dolphins can bring DeVonta to Miami as the 3rd-overall draft pick this year. But they are also keeping a close eye on Alabama stars WR Jaylen Waddle, RB Najee Harris, and WR Rashod Bateman of Minnesota.
ADVERTISEMENT
Article continues below this ad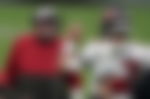 Trending Stories