Chasing Super Bowl 2021, Looking Back at the Career of Bruce Arians
Published 01/27/2021, 1:31 PM EST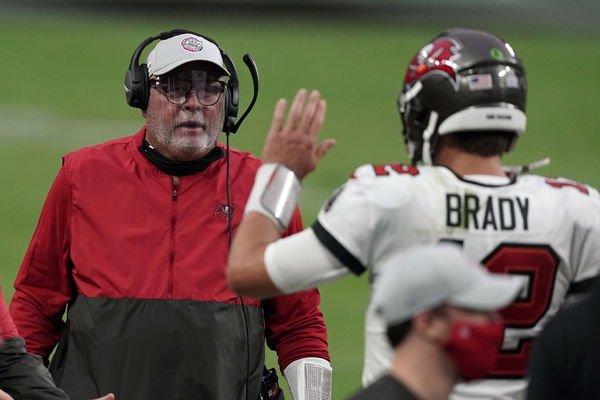 ---
---
Tampa Bay Buccaneers Head Coach Bruce Arians has been a mainstay in the NFL for years. The Buccaneers Head Coach has held multiple coaching positions across franchises over the past 4 decades.
ADVERTISEMENT
Article continues below this ad
Starting from the lower rungs of college football to leading the Bucs to their first Super Bowl appearance in 18 years, we take a look at the journey that Bruce Arians has mapped.
Humble Beginnings for Bruce Arians
ADVERTISEMENT
Article continues below this ad
Arians started his coaching career as a graduate assistant for Virginia Tech back in 1975. From there on he moved on to Mississippi State and Alabama as Running Back Coach.
It was at Temple with the Owls that he got his first big breakthrough as Head Coach. In his 6 season stint as Head Coach for the Owls, he compiled an overall record of 27-39.
Following his stint at Temple, Arians got his first coaching gig in the NFL with the Kansas City Chiefs as Running Backs Coach in 1989.
Arians left Kansas in 1992 and was a bit of a journeyman till 2003. He juggled between college and NFL teams including the likes of the New Orleans Saints, Alabama, Cleveland Browns and the Colts to name a few.
First Super Bowl win with the Pittsburgh Steelers
Bruce Arians had his most successful stint as an NFL coach between 2004-11 with the Pittsburgh Steelers. He was first appointed as the Wide Receivers Coach, but in 2007 he was promoted to the role of Offensive Coordinator.
His aggressive playcalling helped the Pittsburgh Steelers win Super Bowl XLIII. But his decision making was also something which was looked down upon by the Steelers front office.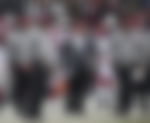 His high-risk, high-reward style of play meant that the Steelers often found themselves losing out at decisive moments of the game. Arians ultimately ran down his contract and left the organization in 2011.
He soon joined the Indianapolis Colts as their Offensive Coordinator in 2012 and even served as Interim Head Coach following the then Head Coach Chuck Pagano's leukemia diagnosis.
But it was in 2013 when Arians got his first full-time Head Coach job with the Arizona Cardinals. Following a few successful campaigns, Arians' magic fizzled out, and he ended his tenure at Arizona in 2017 with a 49-30-1 record.
The coach went on to call it a day after the 2017 season. But as we all know now, it wouldn't be the last the NFL saw of Bruce Arians.
ALSO READ- 'Not Really Excited to Play Tyreek Hill, Kelce, and Mahomes'- Tampa Bay Buccaneers Head Coach Bruce Arians Aware of Challenges Ahead in Super Bowl
A chance to make history with Tampa Bay
After a year-long hiatus, Bruce Arians came out of retirement to sign a 4-year contract with the Tampa Bay Buccaneers in January 2019.
In his first season with the Buccaneers, Arians led the side to a 7-9 finish and failed to make it to the Playoffs. But come 2020, things turned around for the better.
Making multiple moves in the offseason, the Buccaneers signed Tom Brady and Rob Gronkowski to push for the Super Bowl title. The side midway through the season signed free agent Antonio Brown as well.
ADVERTISEMENT
Article continues below this ad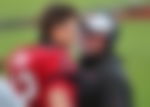 And after a rocky 7-5 start, the Buccaneers finally found the winning formula. Winning the last 4 of their regular season games in 2020, Bruce Arians led the franchise to their first Playoffs appearance since 2007.
Winning all 3 Playoffs games on the road against the Washington Football Team, New Orleans Saints, and the Green Bay Packers, the Buccaneers are just one win away from getting their second-ever Super Bowl title.
ADVERTISEMENT
Article continues below this ad