Everything You Need to Know About Heisman Trophy Winner DeVonta Smith
Published 01/12/2021, 12:07 PM EST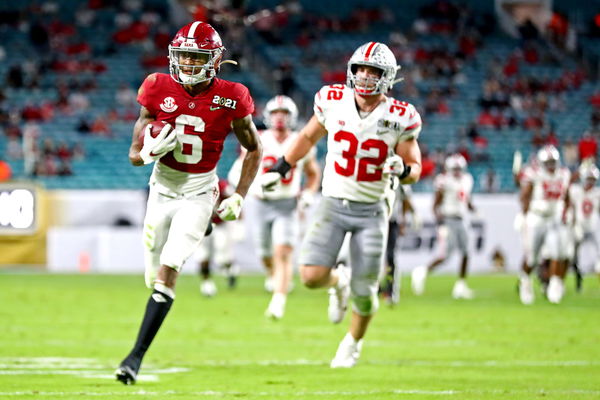 ---
---
DeVonta Smith was born in Louisiana on November 14th, 1998. He attended Amite High Magnet School as a kid before committing to the University of Alabama in 2017.
ADVERTISEMENT
Article continues below this ad
Smith was then introduced to the legendary college football coach, Nick Saban, who took the youngster under his wing from there on out.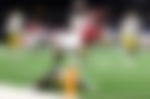 As a freshman at Alabama in 2017, Smith had 8 receptions for 160 yards and 3 touchdowns playing for the Alabama Crimson Tide Football Team. The youngster continued to grow, playing alongside the likes of Jalen Hurts and Tua Tagovailoa.
ADVERTISEMENT
Article continues below this ad
Both these quarterbacks have made the jump to the NFL in 2020. Tua was the 5th overall pick, joining the Brian Flores-led Miami Dolphins.
Meanwhile, Hurts was snapped up by the Philadelphia Eagles in the 2nd round to serve as an understudy to veteran Carson Wentz.
DeVonta ended the 2018 season with 693 receiving yards and 6 receiving touchdowns. However, he took his game to a whole new level in 2019.
DeVonta and his Alabama teammates made their way to the 2019 CFP National Championship. In his junior year, Smith had 68 receptions for 1,256 yards and 14 touchdowns.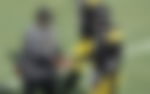 DeVonta Smith wins Heisman Trophy as Alabama crowned National Champions
The 2020 college football season, DeVonta's final year with Alabama, turned out to be his most productive one. Smith ended the season with 117 receptions for 1,856 yards and 23 receiving touchdowns. He averaged 15.9 yards per reception, which is an amazing stat in itself.
His performances in 2020 earned him the Heisman Trophy award. In doing so, Smith became the first college wide receiver to win the prestigious award since Desmond Howard in 1991.
DeVonta Smith: "The Heisman wasn't something that I came back for. I came back to get a degree and to win a national championship."

— Charlie Potter (@Charlie_Potter) January 12, 2021
DeVonta Smith was taken off early in the 2nd half during last night's CFP National Championship against Ohio State University.
The 22-year-old suffered an injury and retreated to the locker room for treatment. Despite missing a major chunk in the 2nd half, Smith had 215 yards with 3 receiving touchdowns as Alabama won the National Championship by a 52-24 margin.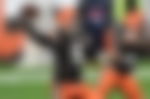 DeVonta-Tua pairing on the cards in 2021?
Everyone in the NFL fraternity is aware of the bond between Miami Dolphins rookie Tua Tagovailoa and DeVonta Smith. The duo shared a locker room during the former's Alabama days between 2017-19.
Tua has shown flashes of brilliance since becoming a starter in Week 7. However, it was obvious that the young quarterback needs some support in the offensive department.
I said it 2 weeks ago but it might not have been loud enough: I turn in the Devonta Smith at #3 card for Dolphins today without hesitation. Not waiting for a trade down or how much he weighs at combine. #3, sharpie. pic.twitter.com/g0Vc9Xj4DA

— Cameron Wolfe (@CameronWolfe) January 12, 2021
ADVERTISEMENT
Article continues below this ad
DeVonta was playing at the Dolphins home stadium last night. The record-breaking college wide receiver needed to put together a show for the NFL teams interested in drafting him.
The Dolphins have the 3rd overall pick this season. They are the favorites to draft DeVonta behind the likes of Justin Fields and Trevor Lawrence.
We all know how Tua feels about a potential reunion with his favored teammate but will coach Brian Flores take the risk? We'll find out in the coming months.
ADVERTISEMENT
Article continues below this ad